There might be nighttime fireworks show at Harry Potter World and we are booking a trip NOW
Soon, when you yell "accio," you won't get just a little burst of light but some big fireworks in the sky. If the recent rumors on Diagon Alley are to be believed, there might be a nighttime show coming to Harry Potter World, and not even a Dark Lord could stop us from taking a trip to check it out.
Keep in mind these are just rumors, but they are really good rumors we hope become a reality in the very near future. Taking a page out of Disney's book, Universal Studios is looking to set up their own nighttime show with fireworks — and one specifically themed around Harry Potter. Not only that, it could happen at both theme parks, Orlando and Hollywood.
According to the Orlando Informer, talking to those in the Harry Potter know, Universal is already in the processes of making this nighttime show a reality. As for what exactly it will be, that's still in the works. If you've ever seen one of Disney World's projection shows on Cinderella Castle, it's thought that this new Harry Potter show would be kinda like that. So, they're be a story, set to giant projected images on Hogwarts (omg) and the surrounding hill, along with fireworks and all that good stuff.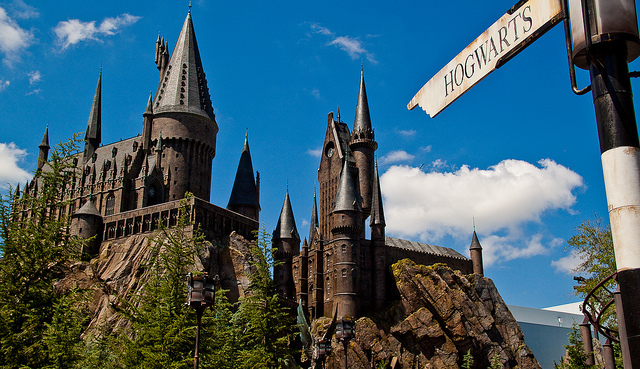 While you might already be planning your next trip to Orlando/Hollywood, here's one thing you do need to know: If the rumors Orlando Informer have heard are true, there wouldn't be a set schedule for these shows. They'd literally be random shows that happen during the day, and of course, at night.
But what, WHY random shows?
Well, if you've been to either one of the theme parks, you know that the space around Hogwarts is very limited, and and cramming thousands of guests into a little area for an extended amount of time doesn't sound like fun. Rather, Universal would themselves just yell ACCIO at some point, and suddenly Hogwarts would just come to life. Completely random. Like a rogue bludger.
Supposedly, this new nighttime show will premiere sometime this Summer, but it's still unclear if it will premiere at both parks this summer, or just the one in Orlando. Our bags are packed either way. Just tell us where we need to buy plane tickets.
[quiz-entity id="7595723″ /]