April's super pink moon in Libra will make you aware of secret situations—here's what this means for your zodiac sign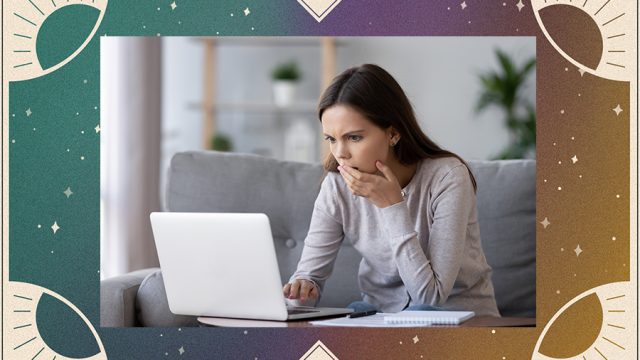 The super pink moon in Libra will occur on Tuesday, April 7th. The super full moon will hang close to the Earth, shedding light on clandestine relationships and matters. After being kept in the dark, you will finally be able to see clearly. This luminary phase will share a minor frustration with elusive and dreamy Neptune, which means that your sixth sense will be energetically heightened. You may choose to look away from situations and relationships that are hurtful, while choosing to heal in your cocoon.
Mercury connects with Jupiter and Pluto the same day, making emotions extra tender, concealing and revealing lies, and making your paranoia reach an all-time high. Mars and Uranus square off as well, giving you the certitude and decisiveness on how to move forward. If something doesn't seem right, lean into your feelings. There's more than meets the eye, and it will come to light now. This is the time to trust your intuition.
Scroll below to see how the April pink supermoon will affect your zodiac sign.
ARIES
Ninety-seven percent of your relationships may be put to the ultimate test right now. But, with the right attitude, you can get through this. Let your friends talk before asserting your input. Things will be easier to resolve once you let your squad get their feelings off their chest.
TAURUS
Get up and stretch out your lovely bones. Breathe life into your muscles with some light yoga to feel invigorated. If that fails, try meditation to reflect and become mindful of situations that matter the most to you. Try not to sweat the small stuff. Zen out, sweet bull.
GEMINI
PSA: Do not overshare your feelings while flirting with your crush. The temptation to express yourself may be high, especially after a few glasses of wine, but suss out the vibe before pouring the third glass of vino to be sure it's the right time to discuss your feels with them.  
CANCER
You've recently gotten too caught up in professional projects, which is now affecting you on many levels. Your workaholic tendencies are starting to take a toll on your personal relationships. It's imperative that you strike a balance between your career and your home life. Find a healthy medium that works.  
LEO
Aren't you the busy bee, Leo? After weeks of avoiding emails and texts, you are finally catching up with all of the mundane tasks that you've been putting on the back burner. Rather than getting frazzled, take your time in responding to others. Move at your own pace. Don't stress.
VIRGO
Money matters (or the lack thereof) is proving to be a situation that's keeping you up at night. Instead of stressing about your dwindling bank account, try to make a list of a few inventive ways you can make more cash—FAST. With the right forethought, you can achieve anything.  
LIBRA
Before you stamp your feet in a tantrum as a result of not receiving enough attention from your peers, try taking a step back and not getting too emo. Everyone is going through their own motions (as are you). It's best to slow your roll before mouthing off to others.  
SCORPIO
Social distancing has proven to work wonders for you, Scorpio. You totally needed a little peace and quiet for a bit. Now that you've caught up with your life, it's time for you to rest some more by taking a bath, sleeping in, and taking Zoom calls in your PJs.  
SAGITTARIUS
Your crew will motivate you to create the change you want for the world. Start donating to relief organizations and charities that align with your ideals. Giving back will inspire growth within you and others you know to help out on a global level—so share the info on social media.  
CAPRICORN
Lately, you've been thinking about the work you do and how it affects (or doesn't affect) the world. All of this deep thinking will push you to reassess your professional endeavors and even make you think about changing careers. Remember: When one door closes, another opens. Do what makes you happy.  
AQUARIUS
Taking a leap of faith doesn't jive with your logical mind. However, you are now cosmically tasked to believe in the ethereal, spiritual, and intangible rather than in your cerebral sensibilities. Allow yourself to find a mix that works in balancing your sentiments. Believe in your ideology. Have faith in yourself.
PISCES
Your intuition is running extra high right now. Journaling will help you to understand your emotions and insights on a deeper level. Plus, you will also be able to use your discerning eye to instinctually navigate through relationships. Trust your gut. You got this.