There is a very good reason these dogs are wearing leotards — trust us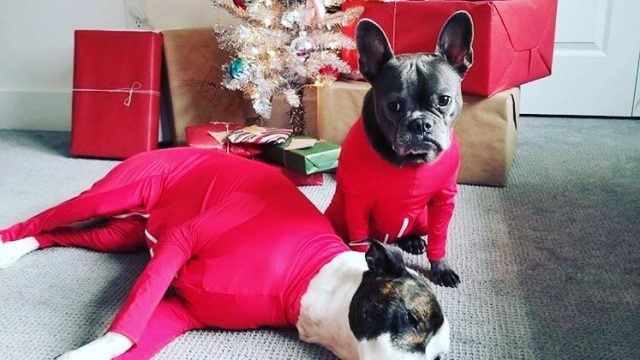 Dressing up your dog isn't exactly a new concept — pet Halloween costumes are a thing, after all. But if you've seen dogs wearing hilarious leotards on social media lately, you may be scratching your head. Well, it turns out there's actually a logical reason for them.
These aren't just cute little outfits for your dog — they're full-on long-sleeved dog leotards with full legs and high necklines. Picture a gymnastics uniform for man's best friend. They look truly comical, but they actually serve a practical purpose. Called Shed Defenders, they prevent your pup from, well… shedding all over the place.
According to PopSugar, a man named Tyson Walters created the Shed Defender to stop his dog Harley from shedding in undesirable places. "I tried every product on the market and nothing worked, so I decided to come up with something completely different," he said.
Obviously, shedding is natural and if you want to own a dog, you're gonna have to put up with hair from time to time. It's important to note that even Walters doesn't think your dog should wear his product 24/7 — PopSugar reports that "a few hours a day, max" is more than enough.
But this does seem like a cool, occasional solution!
https://www.youtube.com/watch?v=0JwMyhuw28c?feature=oembed
It's even designed to get on and off easily, so no struggling with a feisty puppy!
"Made from premium eco-friendly fabric that is lightweight and breathable to ensure the dog stays safe, cool and comfortable. Four-way stretch fabric allows the dog to move freely. Easy to put on and take off. Easy unzip for potty breaks and machine washable," the website description reads.
Aside from the obvious benefits, the Shed Defender website claims the product will help with cleanliness, protection against allergens and skin diseases, and anxiety in dogs.
If it does all that it claims, it definitely sounds like a win for dog owners and pups alike.
Not everyone is a fan of the concept, however. Make sure you do your research, and take your dog's individual situation and personality into account, before you purchase one of your own.
The Shed Defender can be ordered online for $39.99 a pop pup.