You will never have to wash these jeans, ever
Sisterhood of the Traveling Pants had it right with their number one rule for the pants: You must never wash the pants.
Imagine how much time you would save. And laundry detergent. And tears for when your fave dark blue denim or black jeans lose their vibrancy and become dull. Unfortunately, with the pants we own now, washing them at least once in awhile is a must.
That is, until now! Introducing ODO Self-Cleaning Jeans and Tees that never stink or stain. 7,200 cups of water are wasted in washing just one pair of jeans in a single year. That's a lot of water that this new material can save by never needing to be washed.

The company started a Kickstarter on the 7th of December, and the backing project ends on the 30th of January. Their fundraising goal was originally $10,000. But in just under a month, they've raised over $100,000. YUP.
Their Kickstarter site has a fun video which explains how the technology, simultaneously complex in execution but still super simple in theory, works. "The secret is silver," the video claims.
"Fluids penetrate traditional denim jeans easily because they have a plain surface. ODO has an engineered surface which has billions of peaks on it. Liquids touching the surface slide off, or can be easily rinsed off with water." You are not alone if you want one now. Pants start at around $130, and you can also get other clothing items like scarves ($45) and t-shirts ($45) —if they're not sold out already.
If you do get the chance to pledge on a futuristic product, it'll probably get shipped to you by June. It's a long time to wait, but we have a feeling it'll be well worth it.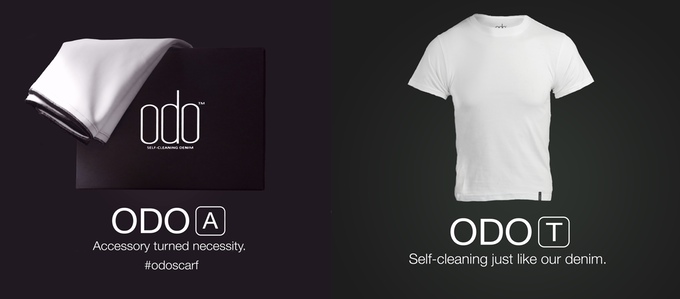 However, this isn't the first sign of self-cleaning clothing technology. Another Kickstarter by a company called SILIC raised nearly $300,000 a couple of years ago with a fabric technology that used "hydrophobic nanotechnology" which is a process of layer billions of layers of fabric with silica. Their plan is to partner with Vera Wang in order to bring us affordable designer clothing with this self cleaning technology.
We have trouble trusting that something will be affordable when it has amazing technology like this. But it seems to be true, with SILIC shirts only twenty bucks a pop, and ODO shirts at only $35, and jeans at only $95 through the Kickstarter campaign. So you're saving money while saving the planet from wasting water.
Sounds like a fair trade-off to me!
(All images via Kickstarter)