This cat came home with the sweetest note in her collar revealing her adventures
Thanks to too many screenings of Homeward Bound, I've always wondered where my neighbor's tabby goes when I'm not watching her sunbathing on the front porch. Well, Reddit user GoldenState received an answer to that very question when her outdoor kitty Nala  (pictured above) came home with a very informative letter tucked in her collar!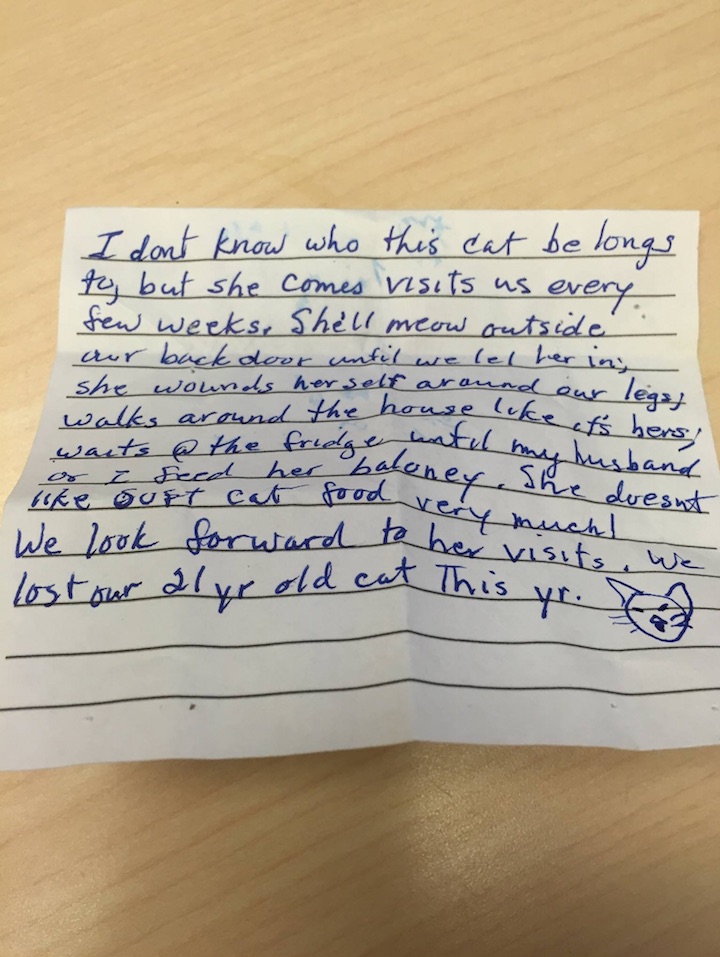 The cat's handwritten message read: "I don't know who this cat belongs to, but she comes [and] visits us every few weeks. She'll meow outside our back door until we let her in; she wounds [sic] herself around our legs, walks around the house like it's hers, waits at the fridge until my husband or I feed her baloney. She doesn't like our cat food very much! We look forward to her visits. We lost our 21 year old cat this year."
We're so glad to hear Nala visits this couple, and provides them with joy. But it's not just this couple that has been touched by Nala, the letter and its story has been shared over a million times.
So next time you see that neighborhood cat walking down the sidewalk, ask yourself– whose life is she touching today?
[Photo: Imgur]