Are you shy in bed? Here are 8 ways to ask for what you want during sex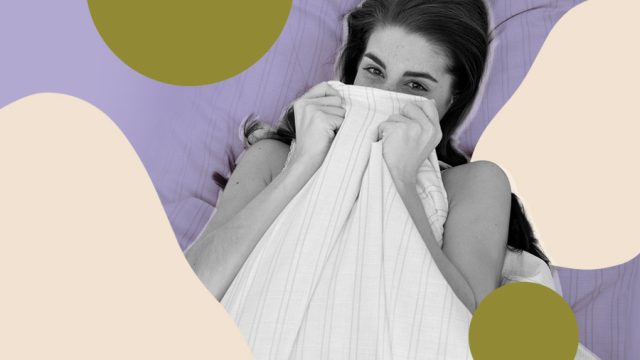 Each product we feature has been independently selected and reviewed by our editorial team. If you make a purchase using the links included, we may earn commission.
Riding an elephant. Meeting your partner's rents. Getting a nipple piercing. Asking your boss for a raise. The list of scary feats may be long and vast, but asking for what you want in bed shouldn't be on it. Still, of course, for many of us—especially those of us who are shy AF—it is. 
That's why pleasure-based sex educator Amy Johnson, co-founder of Nox Shop, an inclusive online sex boutique, says we ought to start thinking about asking for what we want in bed the same way we think about ordering at a restaurant 
"You wouldn't choose to eat a just-okay meal when you could have your favorite dish," she says. "Sure, you might occasionally say, 'Surprise me!' and let your date choose what you eat. But most of the time, you're going to want to ask for what you want so you can eat what you want!" she says. We stan a metaphor!
Jill McDevitt, CalExotics' resident sexologist tells HelloGiggles that because communicating what you want requires vulnerability, "asking for things in bed has the potential to boost the intimacy between you and your partner, and makes you feel more connected physically and emotionally." Better sex and stronger emotional bond? #winning. 
Keep reading for a crib sheet on asserting your sexual needs if you're shy. 
8 ways to ask for what you want in bed
1Start by doing your homework.
Asking for what you want in bed can be difficult when you don't have a clue about what you're interested in. So how do you figure out what you like? Masturbate!
Light a candle, cue up your favorite tunes to set the mood, and then romance your damn self. Start by stroking and massaging your non-genital erogenous zones, like your neck, belly, thighs, scalp, ears, and feet. Then, when you're ready, apply a small amount of lube to your fingertips and move them externally in a windshield-wiper motion, clockwise, counter-clockwise, diagonally, up-and-down, and with varying pressures. If you enjoy penetration, try slipping a finger inside yourself to either find your G-spot, A-spot, or C-spot, or go ahead and use a similar method for your anus. 
As you play, pay attention to what feels good and what feels meh. This will be helpful intel the next time you're feeling more "oh, no" than "oh, yeah" with your partner. 
2Experiment with toys.
Don't just explore with your hands—Johnson recommends using a sex toy to spice things up a bit. Why? Well, sometimes hands just can't move and groove the way a sex toy can. 
If you've never used a vibrator before, the Orchid G egg-on-a-stick vibrator, Lelo Soraya G-spot vibrator, and Le Wand vibrator are all great places to start, depending on your budget. Not sure you'll be a fan of vibration sensations? Try the Njoy stainless steel massager wand or b-vibe snug butt plug. 
Once you find a pleasure product you like, your "ask" to your partner might be about introducing a sex toy to your bedroom. 
3Practice asking for what you want outside of bed.
Hey, it makes sense: The more comfortable you feel asking for non-sexy time things, the more comfortable you'll feel asking for things in the bedroom.
The next time your S.O.'s knee-tapping or humming is annoying the bejesus out of you, ask them (nicely) to stop. Or, if they leave the tube of toothpaste out, go ahead and let 'em know you'd prefer if they screwed the cap on and put the tub back in the medicine cabinet (where it belongs!). While these little requests might feel minor, they can help build your confidence to request more more important bedroom needs and wants. 
4Use text or email to your benefit. 
If you're a better written communicator than verbal, Johnson's got some good news: It's totally okay to talk about what you want over text. Just make sure your partner has consented to receiving some NSFW texts, and isn't giving a presentation at work where your request to use a butt plug is going to pop up on the screen. She suggests using this simple line to get the convo started. "I was thinking about something a little 18+ that I'd like to try, is it ok if I send you a message about it right now?"
Once you've gotten the go-ahead, "Just write in whatever language makes you comfortable," she says. You might try something as simple as, "I was hoping you might be interested in watching me use my Magic Wand. Does that interest you?" or "I recently read an article about mutual masturbation, and I think it could be really fun to try together." Of course, you can also write an entire erotic novella if you want—it's completely up to you.
Remember: "Sexting can not be used completely in lieu of verbal communication," says Dr. McDevitt. For instance, if your sexted fantasy doesn't feel as good as you thought it might, you need to be able to speak up and put a pause to it. 
5Let the actors do the talking. 
"If you're watching a movie or show with a steamy scene that piques your interest simply saying, 'That looks fun, want to give it whirl?' can be a more comfortable way to share what you want," says Johnson. A suggestive grin or smirk will probably do the trick, too. 
Want your partner to ride your face the way Channing Tatum rides a stage? Put on the middle thirty mins of Magic Mike. Want to explore adding a third? Turn on the last episode of Mrs. Fletcher. Want to receive oral while on your period? Cue up The L Word: Generation Q episode 104. 
6Put on porn and learn the lingo.
Admittedly, sharing your porn preferences might feel intimidating if you're super shy. But if there's a porn site or specific porn video that you enjoy, Johnson says, "showing your partner an act you want to try can be easier than explaining it." 
You don't even have to watch it with them, if that feels intimidating. "You can offer to share it with them by sending them a message like, 'I was thinking about you and was wondering if you might like a NSFW link to what I watch when I'm alone,'" she says. Warning: Expect your S.O. to charge through the door the minute they come home for some sweet loving—which is a win if you ask us.
It can also help to watch an array of adult films, like feminist, ethical, and queer porn, so you can your partner can listen to other people asking for what they want in a way that mainstream movies and TV shows don't. 
But keep in mind that porn films are works of fiction and be mindful about which phrases you test drive. Chances are, you'll find a few words, verbs, or phrases that you can bring into your very real sex life. Good news is, there's a lot of porn out there, so if don't know where to start, check out CrashPadSeries, Lust Cinemas, and Make Love Not Porn. 
You might also try audio-porn like Dipsea, Quinn, and Aural Honey, which will provide you ways to ask for things—just without the visual. Plus, you can listen to it while doing tedious tasks at work. No judgment. 
7Show, don't tell.
"For those who are truly tongue-tied, sometimes showing is easier—and clearer—than telling," says Johnson. "Simply start touching yourself when your partner reaches for you," she suggests. If you feel nervous about being in the spotlight, "gently take their hand and place it on their own body with a little wink and a smile, so that you're masturbating side-by-side," she says. While they get to learn what strokes, rhythms, and pressures you like, you get to learn the same for them. 
8Fess up to your fear.
If you're a shy cat, it's time to own that. Dr. McDevitt recommends prefacing your ask by acknowledging your nervousness with a line like, "I feel really vulnerable asking for this but I'd love to […]."
"Most people, especially someone who cares about you, are going to be helpful and compassionate when you acknowledge that you're doing something that scares you," she says. Plus, if that ask is going to make you make music (read: moan), chances are they'll be more than willing.
"Anyone [who] can't put their ego on the shelf long enough to accept suggests or instructions that are ultimately going to make sex better for the both of you probably isn't someone you want to be with anyway," says Dr. McDevitt. Retweet!