Actress and blogger Amy Davidson gets real about how she handled postpartum depression and we need to listen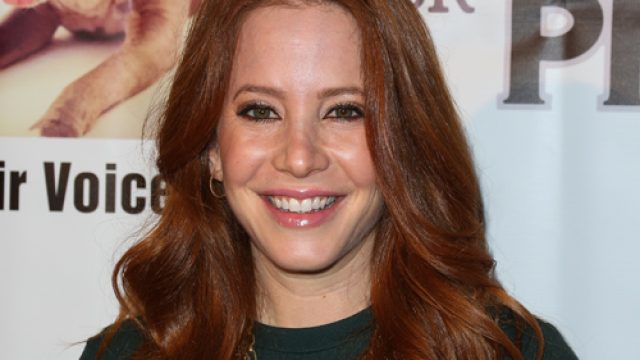 Being a mom is definitely a gift, but Amy Davidson is getting real about postpartum depression and how she dealt with it after her pregnancy and we're so proud of her.
The former 8 Simple Rules actress is a proud mother to son, Lennox Sawyer, who she had with husband and fellow actor, Kacy Lockwood on March 1, but that doesn't mean the first eight months haven't been hard. In fact, Davidson wrote a piece for People's blog about dealing with postpartum depression and it's pretty empowering and definitely eye opening.
Davidson revealed that despite being told that she shouldn't get pregnant or could have a risky pregnancy, the being pregnant part was pretty great for her. "Turns out not only did I have a healthy pregnancy, but I had an extremely happy one! I absolutely loved being pregnant," Davidson wrote for People.
"Maybe it was because I thought this beautiful opportunity may not be in my future? Or maybe it's because I was really able to embrace the changes my body made and all the extraordinary feelings that being pregnant had to offer," she explained.
"Every time Lennox kicked me and wiggled around, I would literally laugh. He has brought me insurmountable joy since I found out I was pregnant. I was lucky, and only felt sick for about one week."
The 37-year-old actress continued saying that Lennox was three-weeks premature, which she thinks is part of the reason she wasn't really ready for him to come out, and the fact that she loved being pregnant made the premature birth even harder.
"I wasn't ready for him to come out, not at all. Because I so loved being pregnant, I felt ripped off that he was leaving my womb three weeks early. Of course, I was incredibly excited to meet my baby — it just added to my internal conflict because I wanted both. I wanted him to stay inside and cook longer, but I also wanted to meet him," she said.
"The idea of him being on the outside felt unnatural to me. All we knew together was him in my belly. He was happy and safe and comfortable. I knew how to be pregnant. I didn't know how to do the next step," she added.
After 11 hours in labor, Davidson explained that she ended up having to have a c-section, which she didn't want, but ended up needing to make sure Lennox was delivered healthy.
Once her son was successfully delivered, Davidson explained that her "plan," including birth plan, learning to breastfeed and more seemed to unravel, and for the first month she couldn't stop crying, which is when she began to realize that she might have post postpartum depression.
"The first month, I just couldn't stop crying," Davidson admitted. "Of course, I knew about postpartum depression and I hoped that it wouldn't affect me, but it did. It hit me hard. Those first four weeks were so incredibly challenging. I was sad and it didn't make sense, and that made me more sad."
"I connected and bonded with my baby instantly; it wasn't that at all. I was mourning my pregnancy and then my c-section. And on top of that, breastfeeding difficulties just hit me so hard. My husband and I were not seeing eye to eye. He was confused as to why I wasn't just enjoying the moment," she continued.
Davidson did however find the light at the end of the tunnel by focusing on her own happiness, so that her son could also be happy.
"And, to be honest, that's what the confusing part was: I was enjoying being with my new baby, but I was sad and missing the experience that we had previously. There was just so much chatter in my head and it got all jumbled up and really clouded me for a while," she explained.
"I did seek help and that was the best thing I ever could've done. If Mommy isn't happy and healthy, then she can't give 100 percent to her baby. That's what I kept hearing, and that was the advice that I took," Davidson revealed.
"Things started to change and the clouds started to lift, and I was able to fully experience one of the most amazing gifts I've ever been blessed with."
The lifestyle blogger also admitted that with time going by so quickly, she does have days where she gets sad about the parts that have already happened, but she now knows that it's okay to get melancholy and it's natural.
"So, I'd love to leave you all with this: Let's be grateful for the difficult days as well as the wonderful ones. Why not? They're going to come anyway, so we may as well learn something from them and be thankful for the lesson," Davidson said, wrapping up her blog post.
"I'm really going to try and take my advice and slow down and enjoy each moment, good or bad, because this train is moving at full speed and it's going to keep going with or without us," she concluded.
Wow, Amy, you are so inspirational!
Postpartum depression is definitely real and hard to deal with, but if you take Davidson's advice of getting help, you can become happy and healthy alongside your baby.