We want to eat and wear these gorgeous shoes made out of sushi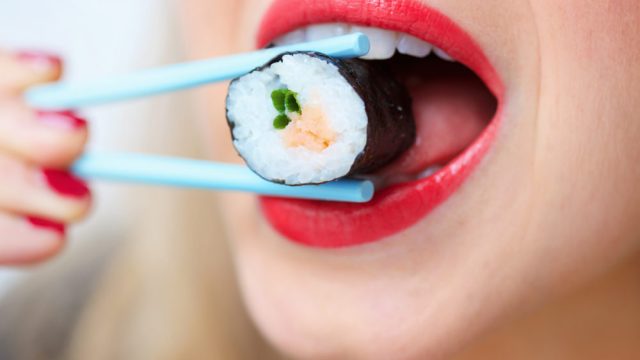 Fan art takes many forms. And for sushi artist Yujia Hu, mixing his passion for American basketball culture and the Japanese dish is almost second nature. With that said, Hu's sushi sneakers are the weirdest Instagram creations we've ever seen, and they're so awesome.
Aside from sharing his sushi art all over the 'gram, Hu is a chef at Sakana Sushi in Milan. And if his social media presence is of any indication, we're sure the artist whips up some majestic bites there, too. Just one look at the hashtag #theonigiriart, and you're sure to fall in love. Not only are the mini sushi sneakers super cool, but they look good enough to eat.
Oh, and Hu doesn't skimp on the details, and his sushi shoes show that he's crazy skillful with his hands. The tiny renditions include everything from the Nike swoop, to even textural subtleties that we once thought only a seamstress could recreate.
Sneaker heads, prepare to be amazed. Because, Yujia Hu's sushi shoes are going to be your next obsession
It was pretty tough, but we pulled a few of our favorite sushi bites to share with you from Hu's collection — from the Yeezy boots to a pair of sleek Vans.
Seriously though, how could you not go crazy over these sushi Air Jordans?
And, the detail in these Adidas alone makes Hu our favorite sushi artist ever.
But, these Vans? Sleek and cool.
These Nike slides are so simple and cute!
Oh, and the Yeezy boots? Untouchable.
But, did we mention that Hu can create a mean celebrity figure out of sushi, as well? Yeah, this artist is certainly one of a kind.
https://www.instagram.com/p/BS1Fo6QDxI6
Seriously though, Cheers to Hu for having the guts to step outside of the box. We could totally see these mini sushi sneakers as adorable party favors, too. Talk about turning your passion into a source of income…