Feminist Passport: Your travel guide to Seattle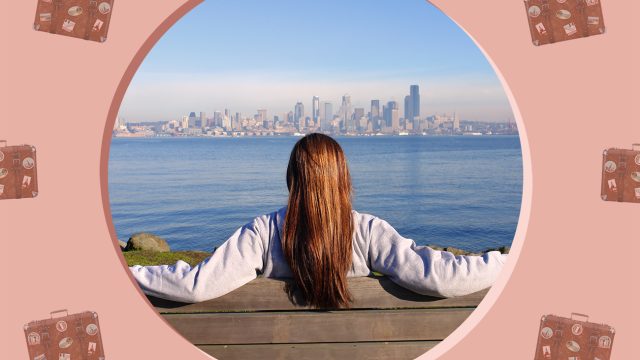 You want to see the world, but sometimes the world is an unfriendly place. That's why HelloGiggles is bringing you Feminist Passport, a guide to all of the most inclusive hotels, restaurants, shops, bars, and sights to visit on your next big adventure. Because travel should be for everyone.
I grew up a ferry ride away from the beautiful city of Seattle. As a kid, nothing excited me more than getting to ride the elevator up to the top of the Space Needle and seeing the views of the city. I still count down the days until I finally get to go back.
Besides that iconic structure, Seattle is known for many things, like its incredible music scene (Nirvana anyone?), coffee, technology, and of course, Amazon. The best part is, Seattle is so female-friendly and inclusive, Shape even named it one of the 10 best cities for single women in the United States. It was also found by the Human Rights Campaign to be one of the top ranking LGBTQ-friendly cities in the nation due to its inclusive laws and policies.
Whether you're traveling solo or with a group of friends, Seattle has so much to offer. There's really something for everyone. If you're looking for a feminist adventure anytime throughout the year, Seattle is definitely the place to be. From unique bars and nightclubs to the ultimate sex-positive hot spot, the city is your oyster. So here is your travel guide to some of the great things you can see and do around Seattle.
1 Make a stop at Unicorn 
The Capitol Hill neighborhood is known for its overall fun and Instagram-worthy vibe. If you're looking for a unique bar that serves some crazy, colorful drinks, Unicorn should be on your must-do list. The best part is, this bar and the surrounding area are very LGBTQ-friendly.
2 Grab a sweet treat at Trophy Cupcakes 
Stop by this woman-owned business and see what Trophy's "most-celebrated" cupcakes are all about. Trophy has all kinds of tasty offerings, like chocolate chip cookie dough, blueberry pie, red velvet, and salted caramel. You're sure to find something you like.
3 Take the Experience Chocolate Factory Tour 
https://www.instagram.com/p/Bk3WZ7FA0_H
Chocolate lovers, get excited. This stop is definitely for you. Seattle Chocolate is a woman-owned and operated company, and 90% of its employees are women. In 2017, the company launched its Experience Chocolate Factory Tour, which is designed to five you an immersive look into the chocolate-making process. And yes, you will get to taste what the factory has to offer.
4 Do some karaoke at the Wild Rose bar 
The Wild Rose is a woman-owned and operated bar since 1984. It's "a place for women…and all are welcome." If karaoke is your thing, Wednesday nights are a great time to stop by.
5 Catch a performance of the Seattle Women's Chorus
The Seattle's Women Chorus was founded in 2002 and has become one of the largest LGBTQ choruses in the world. Besides being a huge music organization, the SWC is a voice for LGBTQ advocacy in the city and nationwide.
6 Shop for athleisure at Oiselle 
If you're in need of workout gear, make a stop at Oiselle's flagship store in Seattle's University Village. This apparel company was created by women, for women. With a motto like "creating sisterhood through sport," why wouldn't you want to check it out?
7 Grab some cute accessories at Lika Love
Lika Love is another woman-owned and run business that actually started out as a truck selling clothes and accessories around the city. Now there are three boutiques that promise "a fun and comfortable place for women to shop."
8 Bring your feminist foodie side out at Frankie & Jo's ice cream shop
Frankie & Jo's is a plant-based ice cream shop created by Kari Brunson and Autumn Martin. Their offerings are 100% vegan, gluten and soy free, and completely unique. Some options include berries and fermented cream, taro root sea foam, and kale lime leaf. Although this ice cream shop is their combined effort, Brunson is the woman behind Juicebox and Martin is behind Hot Cakes Molten Chocolate Cakery.
9 Get a workout in at Inspire Seattle
If you want a workout that's specifically made to empower you, take a class at Inspire Seattle. This woman-owned studio is the city's first Lagree fitness studio. The program combines Pilates with strength training and cardio, along with elements to help you reconnect your mind, body, and spirit.
10 See all the wonderfully sex-positive things Babeland has to offer
No feminist Seattle travel guide would be complete without a mention of its long-time sex-positive institution — Babeland. It's a fun, friendly, feminist sex toy shop that focuses on not only giving you access to high-quality products, but also to accurate and sex-positive information. Babeland Seattle hosts workshops and events, which are open to anyone and everyone over 18.
As brand manager and sex educator Lisa Finn told HelloGiggles, the story behind Babeland is pretty fascinating. Babeland first opened its doors in 1993 under the name "Toys in Babeland." Founders Claire Cavanaugh and Rachel Venning saw a lack of sex toy shops that were well lit and made women feel comfortable. So they wanted to create a space where they would not only feel comfortable but also empowered. And since their staff includes trained sex educators, it's a total judgment-free zone.
So there you have it. As you can see, Seattle has a lot to offer. If you're looking for a feminist-friendly place to explore, pack your bags and head to the Emerald City.