Skip the flowers—give your Valentine this DIY bacon bouquet instead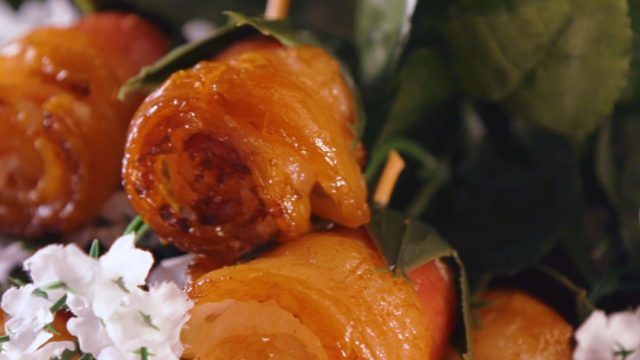 If you're looking for a cute Valentine's Day gift idea, this might be the perfect (porkfect) solution. Skip the flowers and chocolate and instead send a bouquet of your partner's favorite breakfast meat.
Let's say you want to cook something unique but aren't the best cook. Bacon roses might be the easiest and most romantic thing you could ever make. The bacon rosettes are actually delicious—crispy on the outside and tender on the inside. Any true bacon lover will be satisfied with this gift and remember this Valentine for years to come.
Want to be the best partner ever? Follow the recipe below.
[tempo-video id="5998857577001″ account="4607804089001″]
Bacon Rose Bouquet
Serves 12 (serving size: 1 rosette)
Active 15 min. Total 40 min.
Ingredients
12 thick-cut bacon slices
Wooden picks
1 bouquet silk roses
T-pins (additional wooden picks will work in a pinch!)
Directions
1. Heat oven to 400°F. Line a baking sheet with aluminum foil and parchment paper. Starting from the smaller end, roll each slice of bacon up lengthwise to form a rosette. Secure bottoms of each bacon rosette with two wooden picks. Bake on prepared baking sheet in preheated oven until outside of "flowers" are crisp, and insides are cooked through, 25 to 30 minutes. Let cool 10 minutes.
2. Take all the petals off of fake flowers. Remove the picks from the cooled bacon rosettes. Stick a bacon rosette onto each stem. Secure with T-pins.
3. Serve to your favorite bacon lover.