This guy made his wife a life-size advent calendar, and we need someone to make it for us like right now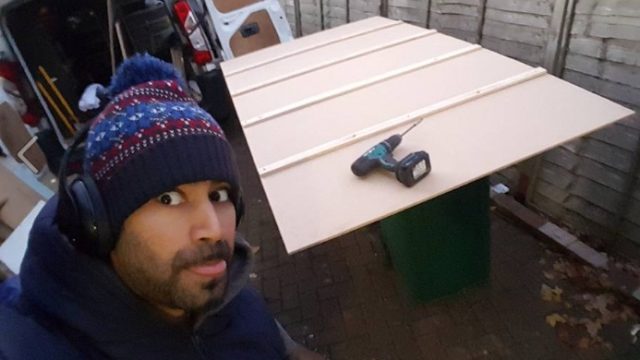 Other than the gifts, the food, the holiday parties, the ugly sweaters, the family time, and the time off of work, the next best thing about Christmas time is the advent calendar. This guy made his wife a huge advent calendar. And, in doing so, he may have just won Christmas.
Ben Hewins constructed a life-size advent calendar for his wife, because he obviously knows how to celebrate Christmas the right way.
The calendar is a 7.5 ft tall and made out of wood. All 25 doors open to reveal a wrapped Christmas gift — from scarves to new pairs of shoes. And he says the inspiration behind the project was his wife.
"She is quite creative and is always making me cool things so I wanted to do something for her this year that was a bit quirky, creative and original," Hewins told Metro. "So, I came up with a giant advent calendar with actual presents behind every window."
And the end result is incredible. But first, he had to construct it.
It took Hewins two days to build the calendar outside in the freezing temperatures in London. But it's probably safe to assume that it was totally worth it.
The couple is obviously really good at giving gifts. Just a few years ago, Hewin's wife put a lot of thought into the gifts she gave him.
"My wife left a present for me everyday during December in one of my drawers with a heart-shaped note that read 'on the xx day of Christmas, my true love gave to me…a new pair of earphones for your gym tunes.'"
Though, to be fair, it's probably going to be hard to top the advent calendar though. https://www.youtube.com/watch?v= https://www.youtube.com/watch?v= https://www.youtube.com/watch?v=
Now we just need to find someone to make us our very own ginormous advent calendar. Any takers?