Tyra Banks wants Lindsay Lohan to have a BIG role in "Life-Size 2," and we wouldn't have it any other way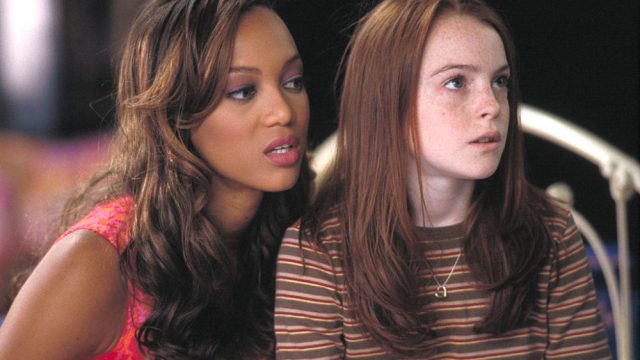 Tyra Banks is pushing to get Lindsay Lohan a BIG role in Life-Size 2 — which is MUSIC to our ears, because we know the former teen queen would shine bright and shine far in the sequel.
"Lindsay and I have been slipping into each other's DM's a lot lately, Banks said. "I think she's very interested in returning. It's about figuring out what that role is. I'd like it to be kind of robust.
The film, which is due out next December on Freeform, is set to follow a grown-up Eve (Banks), who helps a young woman "learn to live and love again." If Lohan does come on board, Banks insists that it would be for much more than a cameo.
"I'm looking for her to have something pretty meaty in Life-Size 2, so we shall see what our writer comes up with," she explained.
Could that mean a full-on Eve and Casey reunion?!
Yes, PLEASE!!
The two actresses have publicly exchanged messages as well lately, which is raising our hopes that we might get to see Lohan in the sequel.
Like this tweet exchange right here:
false
https://twitter.com/udfredirect/status/877315561226510336
Annnnnd this Instagram from Banks that was directed at Lohan:
Plus, the way Banks talks, it really, really sounds like Lohan is interested. In an interview with Entertainment Tonight, the multi-talent discussed the possible evolution of Casey's character.
"The weird thing is, Eve's kind of stuck in time. So, she's going to be a little older, but hopefully not looking that much older!" Banks said. "Whereas when Lindsay started, she was a little 10-year-old girl. Now, she's a woman! So, we have to evolve that and figure out who she is today."
Excuse us while we pound down a hamburger a la Eve, and patiently wait for a confirmation on this.