Freeform's newest poster for Life-Size 2 will take you right back to Sunnyvale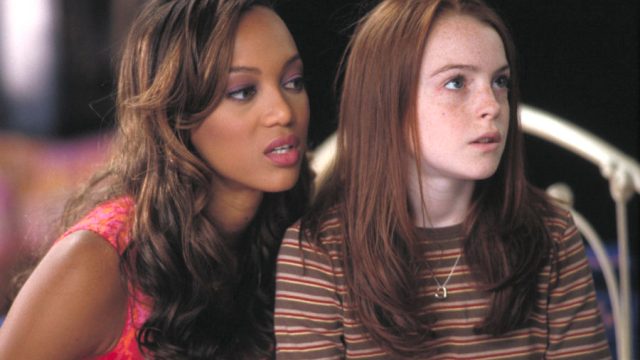 Freeform just released the first poster for the highly anticipated Life-Size 2. The film, which joins Freeform's 25 Days of Christmas as an original feature, will premiere on Sunday, December 2nd. In the whimsical poster, Tyra Banks, who plays main character Eve, is peeking into a dollhouse.
Check out the poster for Life-Size 2 below.
Freeform captioned the photo, "Our favorite doll returns."
Life-Size 2 is the sequel to Disney Channel's fantasy comedy film Life-Size. The 2000 film follows teen Casey Stuart (Lindsay Lohan), who tries to resurrect her mother back from the dead with a spell book. The spell goes awry, and she accidentally brings to life a plastic toy doll, Eve (Banks), instead.
News of a Life-Size sequel first broke in December 2015. In an interview with Hollywood Life, Banks confirmed she had read many drafts for the film. She said:
"We have gotten many drafts of scripts, and the one thing I can say is that to the Disney Channel executives, Life-Size is so precious. It's like their baby, so they just want it perfect. They keep re-doing it, and re-doing it, and re-doing the script, and we are in another round of redos.
Fast forward to April 2017, and fans got confirmation that the sequel was officially happening. Many speculated over whether Lohan would reprise her role as Casey Stuart. And in April of this year, during an appearance on Steve, Banks confirmed that Lohan was, in fact, returning. However, the Mean Girls actress has been noticeably MIA in all the Freeform promos.
Life-Size 2 will follow Grace (Grown-ish's Francia Raisa), a CEO of a toy company who faces struggles in her job. Grace's old doll, Eve (Tyra Banks), awakens to help get her life back on track.
Watch the trailer for Life-Size 2 below.
Life-Size 2 will air on Freeform on December 2nd during 25 Days of Christmas.