Lindsay Lohan will (be a) star in Life-Size 2, according to Eve herself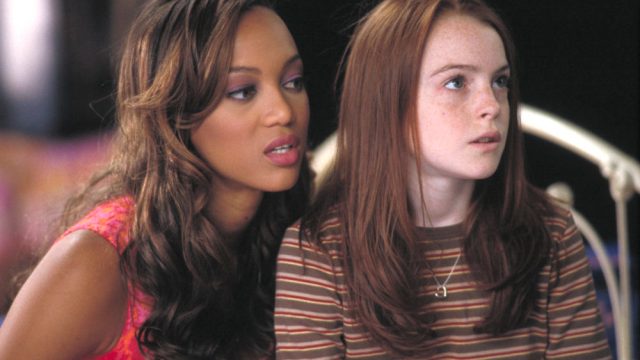 When news first broke about Disney Channel Original Movie Life-Size getting a sequel (albeit on Freeform this time around), we cued up "Be a Star," sang the lyrics at the top of our lungs, and essentially freaked the eff out. This classic 2000s DCOM holds a special place in every '90s and '00s girl's heart, and the idea that we would be getting a follow-up starring Tyra Banks as Eve, the plucky doll that comes to life, was almost too good to be true. But how could a Life-Size sequel hold up to the original magic of Banks with co-star Lindsay Lohan?
Who could possibly star in the sequel with Banks, and how would it measure up to Lohan's work as Casey Stuart?
We don't have to wonder anymore, because Banks has unofficially made it official: Lohan is returning to star in Life-Size 2. It's really happening! Banks revealed the news that Lohan would be starring alongside her in Life-Size 2 while talking to Steve Harvey on Steve. The host asked her if Lohan was attached to the Freeform movie.
"Lindsay Lohan will be in Life-Size 2," Banks says. "Yes! I really really want her to. We're talking about it right now and she has got to come back!"
This is hardly the first time that Banks has championed for her former co-star to return to Life-Size for the sequel, for which Banks will also serve as an executive producer.
When the sequel was first announced, Banks started publicly campaigning for Lohan to return. "Every time I see her she gives me a hug like it was back in the day, like she's 10 years old again," Banks told E! News. "I would love for you to come back and do something for Life-Size, will you? Will you?"
While not much is known about what the sequel will entail and how Lohan's Casey will factor in to it all, we do know that this time around, Eve has magically awoken to help a young woman learn to live and love again. Along the way, Eve herself will experience the ups and downs of real life in the telepic that's described as a "fun, edgy, modern Christmas movie." And yes, we're going to be getting a club banger remix of "Be a Star," so this is already shaping up to be an amazing pop culture moment for us all.
If this is the beginning of Lohan's big comeback, we are *so* ready. Life-Size 2 is slated to premiere in December on Freeform.