5 life lessons from the Five Moons, a groundbreaking group of Native ballerinas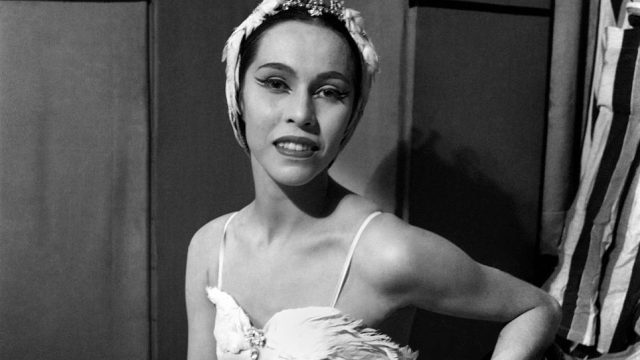 We were all excited when the ever-awesome Misty Copeland became the first African-American principal dancer of the American Ballet Theater in 2015. Two years later, we are still inspired by her grace on and offstage.
Before Copeland's time, in the 1940s, Osage dancer Maria Tallchief also broke barriers when she became the first American of any ethnicity to become a principal dancer. At the time, ballet was considered a Russian art form, with only Russian and European principal dancers. However, after years dancing with the Ballet Russe de Monte Carlo, Tallchief was named the first prima ballerina of the New York City Ballet ("prima ballerinas" are female principal dancers) when it was co-founded by famed choreographer George Balanchine.
While Maria Tallchief was gaining worldwide fame, four other Native dancers were also earning principal spots and accolades. There was Maria's sister, Marjorie Tallchief, who was the first Native American to be named principal dancer of the Paris Opera Ballet. Shawnee-Cherokee dancer Yvonne Chouteau was the youngest dancer ever accepted to the Ballet Russe de Monte Carlo. As for Choctaw dancer Rosella Hightower, she was a critically acclaimed dancer in Paris and New York. Cherokee dancer Moscelyne Larkin toured Europe and the Americas with the Original Ballet Russe.
The group came to be known as the Five American Indian Ballerinas, or sometimes, the Five Moons, after the title of a statue commemorating them in their home state of Oklahoma. At the height of their careers, they garnered praise, wealth, and fame. And even after retirement, they continued to exude professional poise and personal strength. With this in mind, here are some lessons we can all learn from these inspiring artists:
Don't be afraid to leap:
All five of the dancers moved far from home to pursue dancing careers, and at times, they struggled with missing the cultural ties of their families and communities. Rosella Hightower was only 14 when she introduced herself to the famous choreographer Leonid Massine, after a performance in Kansas City, and convinced him to give her an audition for his company in Monte Carlo. She rode to France on a two-week boat ride, made the audition, and went on to have a long and illustrious career.
Listen to your mentors, but be yourself:
Maria Tallchief recalls in her memoir that her teacher, the famous dancer Bronislava Nijinska, insisted, "…when you sleep, sleep like ballerina. Even on  street waiting for bus, stand like ballerina." She took that advice to heart, bringing her individuality to every role, both on and offstage. "Two strong women, my mother and my teacher, were directing my destiny, and I loved them both," she wrote. She balanced their guidance with her own will to develop and manage her career and legacy.
"Above all, I wanted to be appreciated as a prima ballerina who happened to be a Native American, never as someone who was an American Indian ballerina, she wrote.
Sisterhood is powerful:
All five of these prima ballerinas supported other dancers — including each other. In 1967, the Cherokee composer Louis Ballard composed a ballet in their honor, The Four Moons. Maria Tallchief had retired from dancing by then, but the other four danced in its premiere. It was the first time they had danced together, and they were complimentary of each other during the ballet and all other honors. In a 1997 interview, Yvonne Chouteau said, "To stand in the wings and watch Rosella Hightower, even at rehearsal gave me goose bumps … to watch Marjorie to see the unique artistry … you could see so clearly the Indian heritage. It was uncanny, just uncanny, the way Miss Hightower, the way her feet would touch the floor and leave it. Only an Indian could touch like that fleet, fleet of foot."
Survive your success:
Marjorie Tallchief lives in Boca Raton, Florida, where she is retired from her position as director of Harid Conservatory. The other four dancers lived long, healthy lives as well. All five managed fame as dancers, high-profile careers as teachers and directors, and motherhood with grace. Maria Tallchief's daughter, the poet Elise Paschen, said of her mother and aunt, "Both women were dedicated mothers…The proudest moment in her life was having me."
Share the wealth:
 After their dance careers, all five ballerinas went on to teach, to direct, or to found important dance companies. They were committed to sharing the art that had brought them so much joy. Upon the death of Moscelyne Larkin, Marcello Angelini, the artistic director of the Tulsa Ballet, said, "As great as her legacy as a dancer and as the co-founder of Tulsa Ballet is, to me, her greatest legacy may be that of teacher. I have seen her work with young children, and she had an extraordinary ability to relate and connect with them. Some of them went on to become dancers, most did not. But through Miss Larkin's teaching, they learned some of the most important things in life – discipline, self-confidence and persistence."
(And yes, that's THE Megan Mulally who played Karen Walker on Will & Grace, being taught by Maria Tallchief.)
These dancers led extraordinary lives, and we can all be inspired by their example.