Lido Pimienta's newest video is an ode to female friendship and breaking the spell of toxic masculinity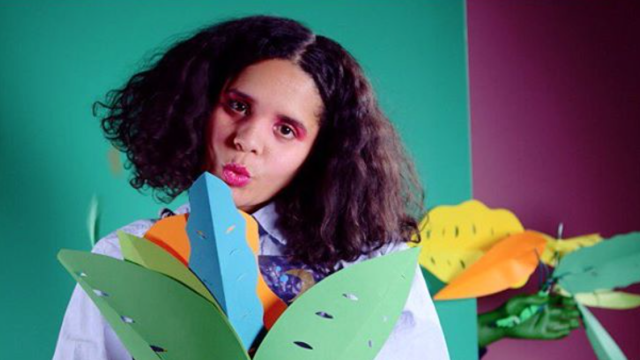 For Toronto-based Lido Pimienta, there is power in re-writing toxic narratives. There is power in community, in femme and female support, in friendship, and in creation. So is the basis for Lido's latest video for "La Capacidad," which transports you to a bold and brilliant nirvana, where colors abound and hypnotic beats guide you. The latest single from her 2016 album La Papessa, this song is infused with electronica and Colombian percussion, resulting in a lovechild that is uniquely Lido.
With mesmerizing beats that invite you to get lost in a primary hued paradise, this song leads you through the ins and outs of Afro-Indigenous Colombiana Lido's mind, all while chronicling an abusive relationship. In an exclusive interview with Remezcla, Lido said
"[This video] is about us/people being able to build the space one wants to 'grow up' in. A safe space in which a womxn or female-identifying person can exist without fear.
https://www.youtube.com/watch?v=yACkEJFr2to?feature=oembed
This video acts as an invitation to see Lido's experiences through her own lens, under her own watch. The video is playful; bright colors, plastic plants, plenty of kitschy and religious figures, and bold makeup all help create the dreamy aesthetic. The piece features friends of Lido's who are also artists, and midway through, it cuts to the singer explaining her abusive relationship to them. She tells them that after recognizing her boyfriend's behavior as abusive, like when he'd police what she was wearing, she broke up with him.
And three days later, when he was threatening to leak her nudes on the internet, she didn't know what to do; so she called her mom. And, of course, in true mama spirit, Lido's mother called her ex and told him to leak the photos because they'd make her famous.
This sort of severity juxtaposed by humor is exactly what makes watching this so intoxicating. Soon after this portion, we see Lido attempting to cover up a bruise on her neck, and later smudging bright pink lipstick over her face, all the while immersed in a kaleidoscope of color.
There is power in retelling your story and shaping it how you see fit, while supported by those who matter most. Lido's latest lends credence to that, allowing her space to explore fantasy and reality while inviting us to watch her discover where to draw the line.