Liam Hemsworth made a clutch surprise appearance on "SNL" with Miley Cyrus this past weekend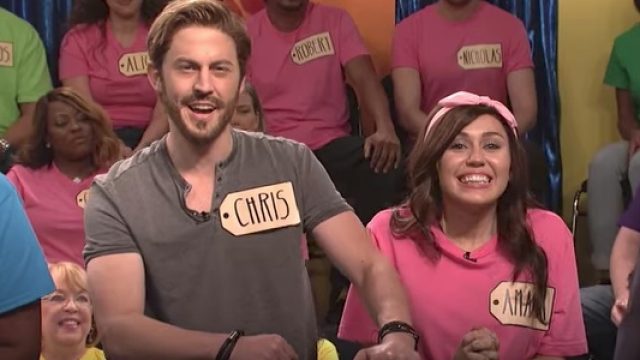 We love this celeb couple, so needless to say their most recent antics have us delighted. Miley Cyrus and Liam Hemsworth appeared on Saturday Night Live together this past Saturday when Cyrus appeared as the musical guest.
In a hilarious skit that parodied The Price is Right Celebrity Edition, Cyrus teamed up with Alex Moffat as Chris Hemsworth (his impersonation was on point BTW). Looking at him adoringly, she expressed her love…only to find out he's married. She then of course asked, "Do you have a brother?" (Ha…see what they did there?)
Then, later in the skit, "Chris" calls a friend for help in guessing the price of a washing machine, and his brother appears in the flesh.
AKA the real-life Liam Hemsworth.
The younger Hemsworth jumped in with a very manly and Australian suggestion involving beastly animal teeth.
https://www.instagram.com/p/BbH8HyAB590
"We bid 150 crocodile teeth. BOOM!" Seriously, can this guy drop into SNL more often?
Here's the entire clip:
https://www.youtube.com/watch?v=wkG_8BrAROM?feature=oembed
This is the first time the two have appeared on camera together since The Last Song, the film in which they first met. And in our humble opinions, these two should collaborate more often. But for now, we'll just have to satiate ourselves with their adorable Insta pics:
https://www.instagram.com/p/BQhHKtmFt57
Also, in case you were wondering, Cyrus crushed the musical performances on Saturday night's episode (not that there was any doubt in our minds). Let's all take a moment to listen.
Give it up for "Bad Mood."
https://www.youtube.com/watch?v=Si_fty6ca84?feature=oembed
And "I Would Die For You."
https://www.youtube.com/watch?v=VIPqtSgzkEU?feature=oembed
Yup, she killed it. THEY killed it. And we'll take more of Miley and Liam anytime! Have a great Monday.