Trump's campaign website sells an LGBTQ pride T-shirt, and that's just absurd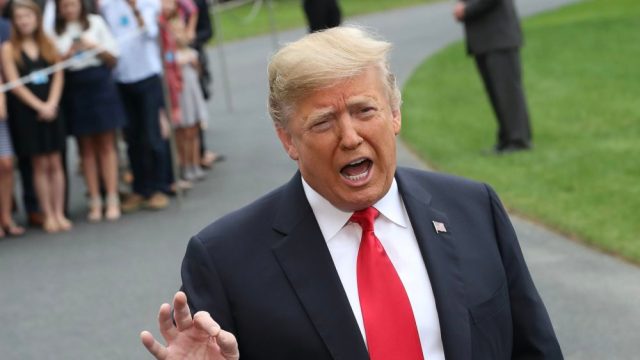 Despite what President Donald Trump may claim, his time in office has been marked by policies that are undeniably harmful to LGBTQ people. On October 21st, The New York Times even reported that the Trump administration is attempting to erase transgender people by implementing a new legal definition of the word "gender." And yet, oddly enough, you can still buy a "Trump Pride Tee" on the president's official campaign website.
Dave Levinthal, a reporter for the nonprofit The Center for Public Integrity, first pointed out the hypocritical Trump gear on Twitter, sharing a picture of the shirt alongside the recent NYT headline. The Trump Pride Tee, currently retailing for $24, is white with a rainbow and the words "LGBTQ for Trump."
"Show your pride and support for Trump with this exclusive equality tee," the description on Trump's website reads.
As Levinthal noted in his post, every dollar spent on the shirt is donated to Trump's 2020 campaign for re-election. It's undeniably ironic that a so-called "pride" shirt would help support a president who once tried to ban transgender people from serving in the military. And infamously anti-LGBTQ Vice President Mike Pence would also benefit from the sale of these shirts—assuming he's chosen to be Trump's running mate again. As Time notes, Pence has long been a vocal critic of gay marriage, and he has also opposed laws that would prevent discrimination of LGBTQ people in the workplace.
In the past, Trump has tried to paint himself as a champion of LGBTQ rights. As ABC News notes, after the Pulse Nightclub shooting, he claimed that his proposed ban of Muslim immigrants would protect LGBTQ people. Later that month, he echoed this idea when he tweeted that he would "fight for" the LGBTQ community.
https://twitter.com/udfredirect/status/742771576039460864
According to exit polls from the 2016 election, only about 14% of LGBTQ voters cast their ballots for Trump. Really, if the president really wanted to support the LGBTQ+ community, he would enact policies that protect them—not sell shirts with empty rhetoric.
Trump—you're not fooling anyone.