How 4 LGBTQ couples are taking care of each other during the pandemic
Without the parades, Pride looks different this year—but that just means that LGBTQ people across the country are finding new and innovative ways to celebrate and honor their identities. Pride Inside & Out is dedicated to amplifying these stories, from the queer couples taking care of each other through a pandemic to the folks using quarantine to come out to those they love.
Coronavirus (COVID-19) has thrown all of us into what seems to be a "new normal," and with that has come an immense adjustment period. The lives we knew are gone, and the security and stability many of us once felt have flown out the window. However, as traumatic as this experience has been, humans across the world have adapted to the changes with resilience, using empathy and love to stay strong. Many couples quarantining together, in particular, have not only learned how to take care of themselves during the pandemic, but also have learned how to take care of each other.
After all, love—whether romantic or not—is all about caring for another individual without expecting anything in return. And because the pandemic has (literally) brought many couples together, they've gotten to learn and cherish new things about one another in a unique, intimate way. Of course, everyone quarantining together brings unique challenges, but those moments of conflict have made some partners grow closer, rather than farther apart. 
So as we enter Pride month, a time that symbolizes affection, community, and joy, what better way to celebrate than by showcasing couples who have been showing up for each other during this difficult time?
Below, four LGBTQ couples discuss how they've been taking care of one another while quarantined together at home.
Kate, 27, and Ashlynn, 30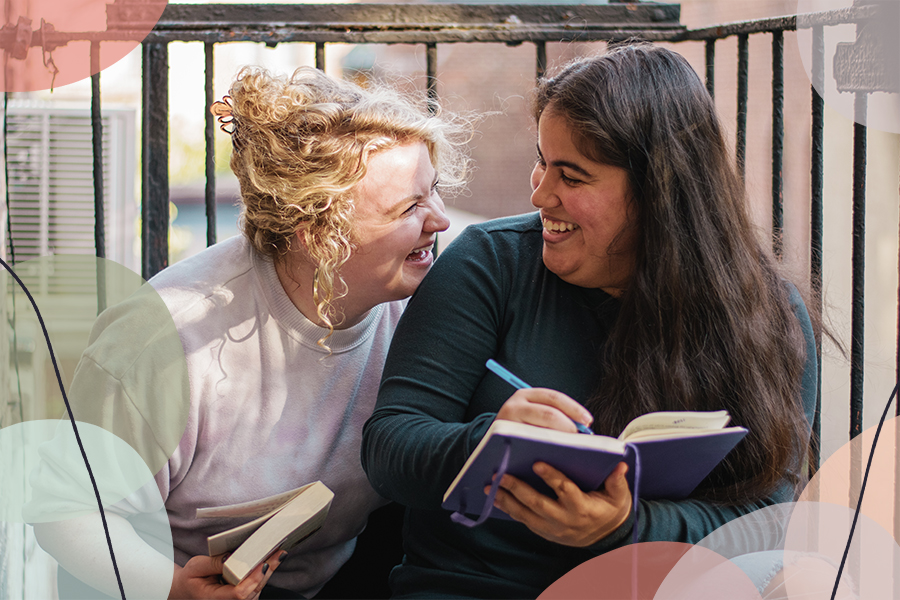 HelloGiggles: How have you shown up for one another during moments of hardships?
Kate: We've really continued to improve on our communication skills during quarantine. When things get tough, we are honest with each other about how we're feeling and what we need to do to cope. I've had days where I feel so helpless and lost, and I look to Ashlynn to make me laugh and to talk through all of my fears. Ashlynn has had days where she needed to take her mind off of the craziness happening outside by playing Xbox with her two brothers. We've both learned how to accommodate the other's needs during this time. In creating a safe space, we've become closer and learned that it's okay to cope with this global pandemic in different ways.
Ashlynn: I think we've both done a good job of being honest with each other and letting each other know what we need. Some days, I just need to play Xbox and not really do anything that forces me to think about tomorrow, and some days Kate just needs to rewatch Big Mouth, Friends, The Office, and Bob's Burgers for the 10,000th time, and both of those activities are okay. We've both done a good job of just letting each other be. Some days I'm the one cooking and cleaning, some days it's her, and other days we both clean and complain about how only we could make an apartment so messy!
HG: What new acts of love have you shown each other during quarantine that you want to continue afterward?
Kate: I've enjoyed baking things for us to try! I've always loved to bake, and quarantine is a perfect time to test out new recipes. I learned how to make a classic Irish soda bread from scratch, and when I made the first loaf, I was so excited to share it with Ashlynn and see how she liked it. I would love to keep baking and trying new recipes in the kitchen together, because we've challenged each other to improve our cooking skills. Nothing is more fun than creating a great meal or snack to share together.
Ashlynn: Cooking and baking together, for sure. Cooking was something we did [previously] because we had to, and we always did the quick and easy route—and we never baked. We've had a ton of fun exploring new meals, baking, and messing up recipes terribly.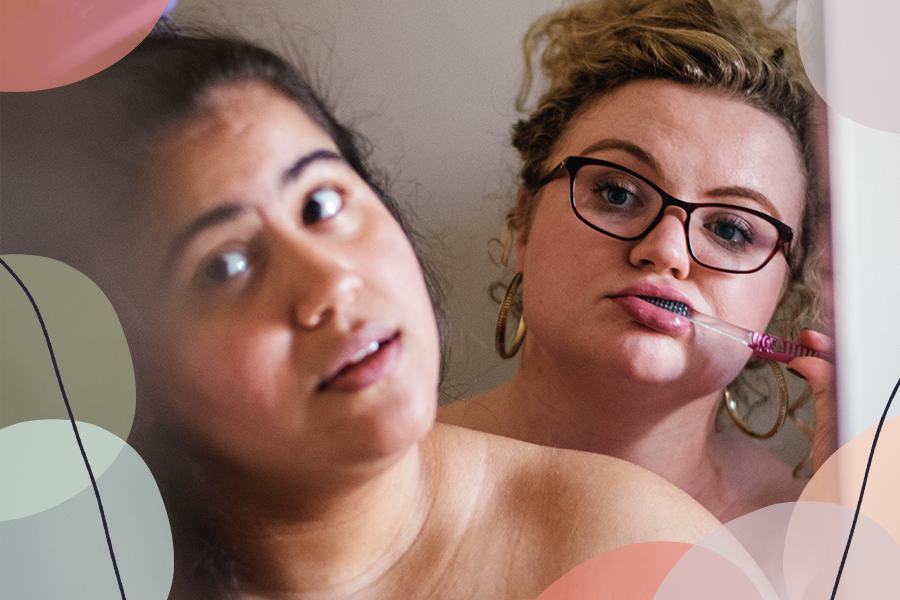 HG: How do you think you've grown together during this time?
Kate: We've definitely learned how to handle conflict, since we're practically on top of each other 24/7. I've learned to not take things personally and to know that spending time apart doesn't mean we're growing apart. At first, it felt weird to be in the apartment at the same time while doing different things, but it's taught me that personal time is really a good thing. I could, and would, happily spend all of my time with Ashlynn, but realistically we need to have our own time. 
Ashlynn: Our communication has definitely improved. I think because we don't have anything else to do, we're able to just sit down and listen to each other. For me, being aware that these are hard times and paying attention to what she is saying is crucial because a lot of people are dealing with depression and grief, whether it's about COVID-19 or the fact that Friends is no longer on Netflix is valid.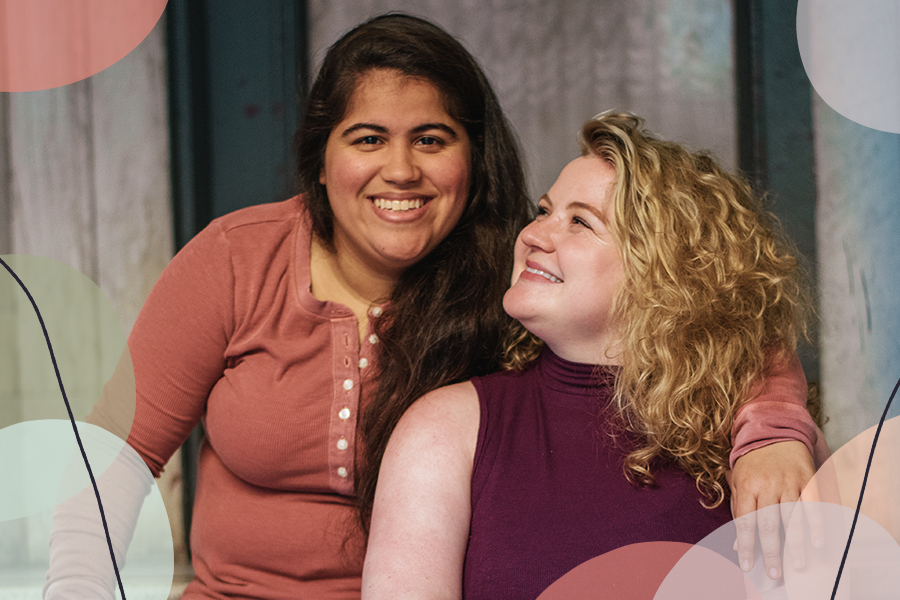 HG: If you could write a two-sentence love letter to your partner about this time, what would it say?
Kate: Thank you for always making me laugh and never judging my dirty, un-showered hair. You are my favorite person in the whole world. Please, can we get a dog??
Ashlynn: Thank you for your love, patience, and kindness throughout all of this. Also, turn off the TV in the bedroom when you decide to switch over to the living room! Love you.
Chella, 21, and MaryV, 22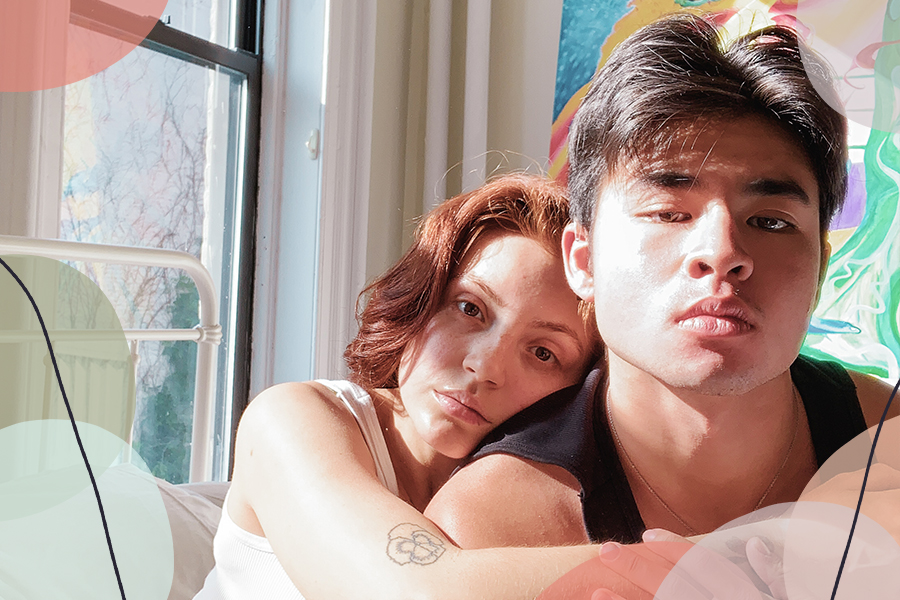 HG: How have you shown up for one another during moments of hardships?
Chella: Always holding open communication about our thoughts and feelings has been key since the beginning. Practicing this is "showing up" for our relationship.
MaryV: Spending a lot of time with anyone can bring up new emotions and feelings. For Chella and I, that definitely happened. Anytime we had intense feelings about what was going on, we "showed up" for each other. [We've also been] that support system to one another—listening, healing, talking.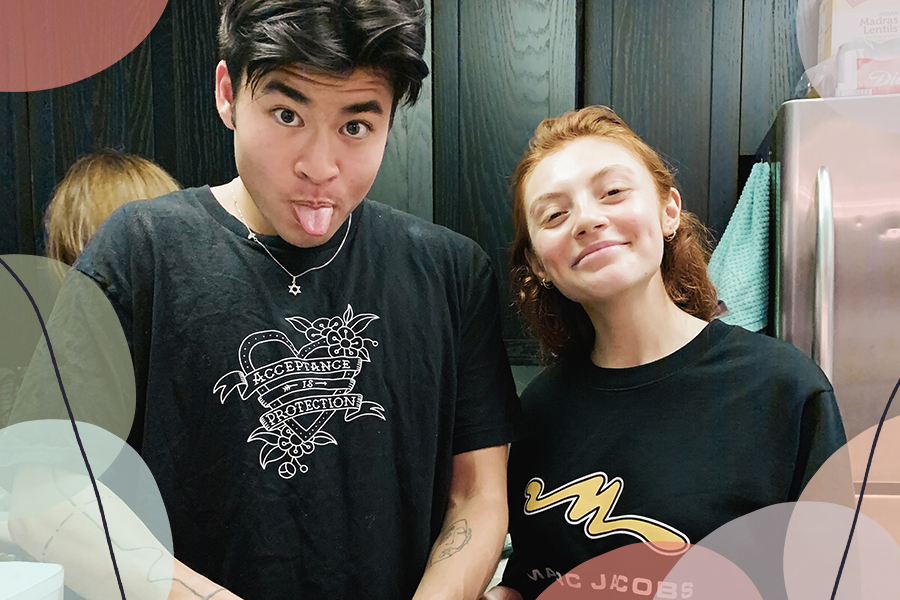 HG: If there were one memory you'd never want to forget from isolating together, what is it?
Chella: We drove with my family out to this lake in the middle of nowhere in central Pennsylvania. It was freezing, but I challenged her to go into the water with me. The cold shocked my body. It was actually an amazing feeling and experience—something new during this time of redundancy.
MaryV: I've been feeling so grateful toward Chella's parents for allowing us to stay in their home in Pennsylvania…I celebrated my birthday during this time and the morning I woke up, I received a call from my mom, who is in Denver. Chella set it up with her. My mom sings "Las Manitas" to me every birthday morning. Then, Chella's mom cooked me birthday pancakes. I felt so loved and lucky!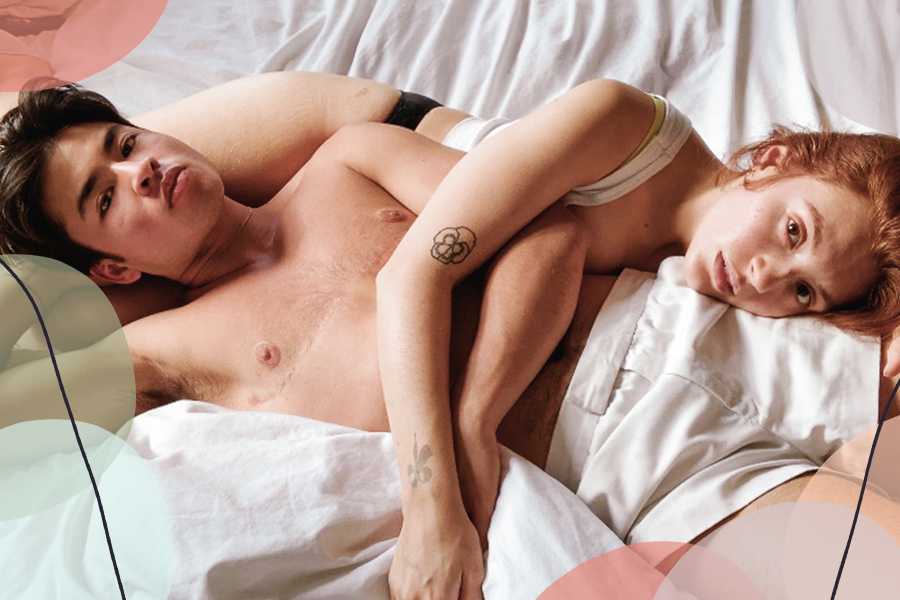 HG: What is one thing you want to do together post-pandemic?
Chella: Travel more! We had just begun to explore our art practices more in Brescia, Italy, at the Palazzo Monti. I am grateful we had this experience before COVID-19 hit.
MaryV: Definitely agree, travel. We gain such beautiful experiences together when we are traveling.
Ryan G., 30, and Ryan J., 28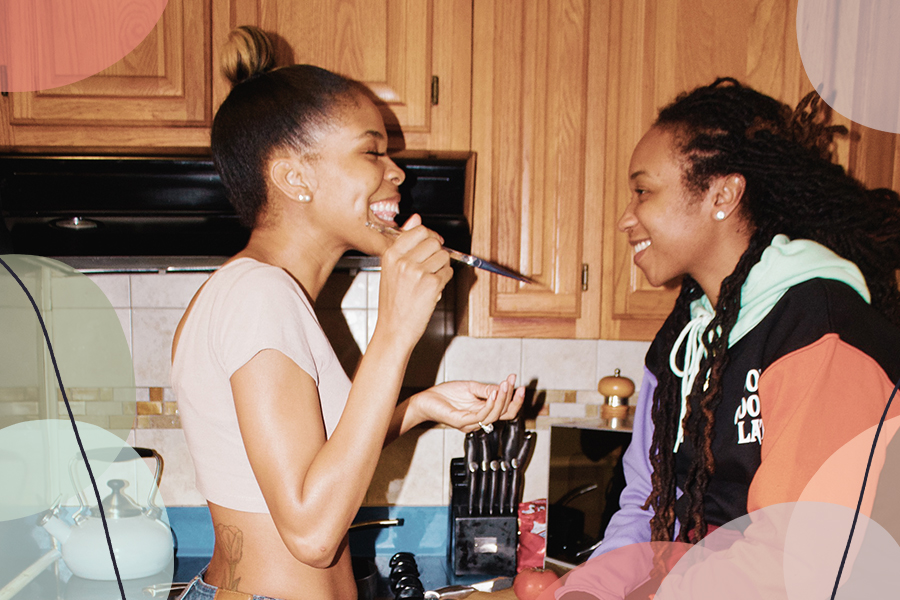 HG: What is one thing you've loved about having more time with each other? And what is one thing that's been tough?   
Ryan J.: Ryan and I have been connected at the hip since we met seven years ago, so this extra time together is just a bonus.
Ryan G.: We have an 11-year-old and 9-month-old. Before the pandemic, I would always think there wasn't enough time in the day to tend to the kids after work while still making sure Ryan and I had our time together. Ryan has been working the entire quarantine. But I haven't had to go to work in the morning, so we've been able to stay up later and get that special time in with each other, without having to worry about getting up early for work—which I've absolutely loved. What's tough is that eventually, everything will go back to normal and our "new normal" will be over after I've gotten used to being home with her every day.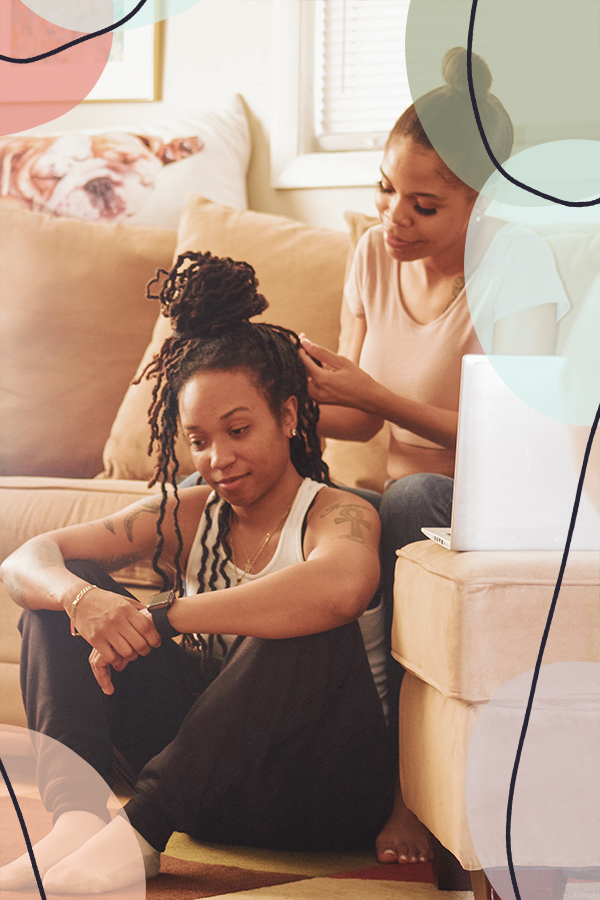 HG: What is one thing you want to do together post-pandemic?
Ryan J.: Lots of physical connection, if you know what I mean. Like Ryan had mentioned, we have two bored quarantined kids home with us. Although we are getting the extra time together, there isn't enough time for "that." So once the pandemic is over and we can send them to the grandparents' house, there will be a lot of physical connection.
Ryan G.: We definitely want to get our travel plans back in order. We planned a couple of trips together and some with the kids that were canceled due to the pandemic. Once we feel comfortable flying again, Jamaica, here we come!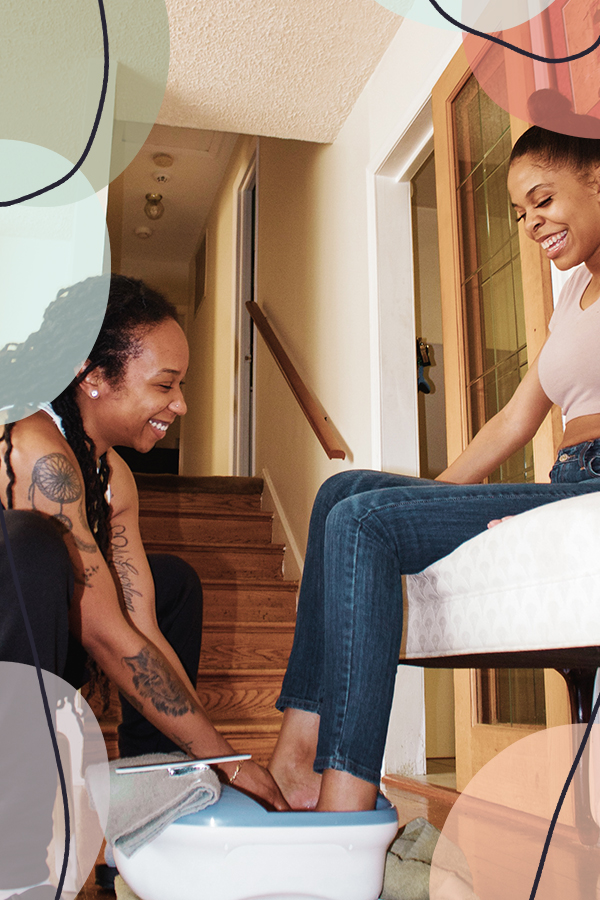 HG: If you could write a two-sentence love letter to your partner about this time, what would it say?
Ryan G.: Dear Bae, you're my safe place, I'm your safe place. Whatever happens, you got me and I got you. We have each other and that's all that matters.
Courtney, 27, and Brianna, 27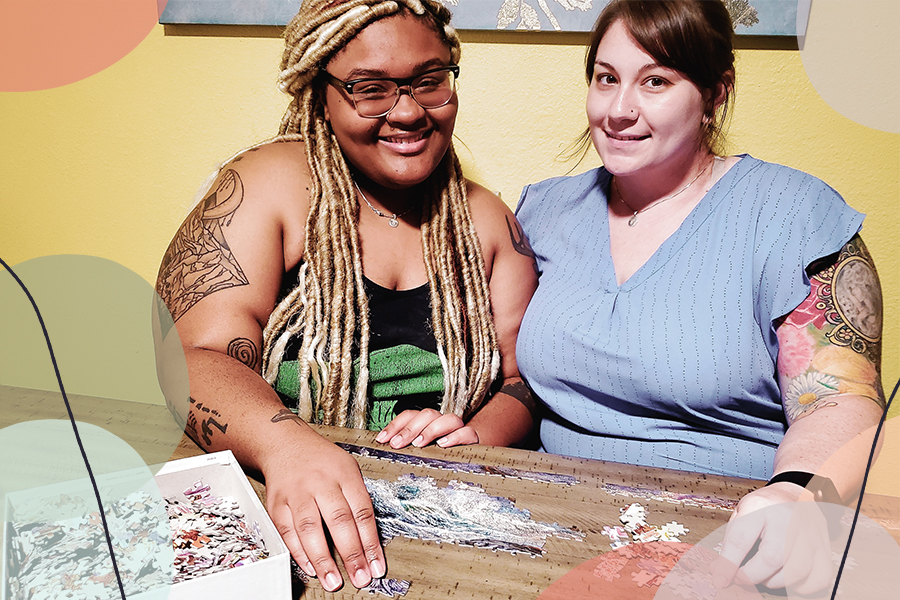 HG: What has it been like quarantining together?
Brianna: It has been pretty business as usual. It's just given us the opportunity to spend more quality time together.
Courtney: I agree with Bri. Since I am an essential employee working as an autopsy technician, I have worked throughout the quarantine. But being able to have every weekend and evening with Bri has been great.
HG: What is one thing you've loved about having more time with each other? And what is one thing that's been tough? 
Brianna: Just having the time to just sit together and being able to talk. That's been really nice. Sitting at our kitchen table doing puzzles and talking and laughing together has been great.
Courtney: There have been a lot of pretty unforgettable moments. Bri has been building us a deck in our backyard during quarantine and seeing her craftsmanship and helping her create something so beautiful was amazing.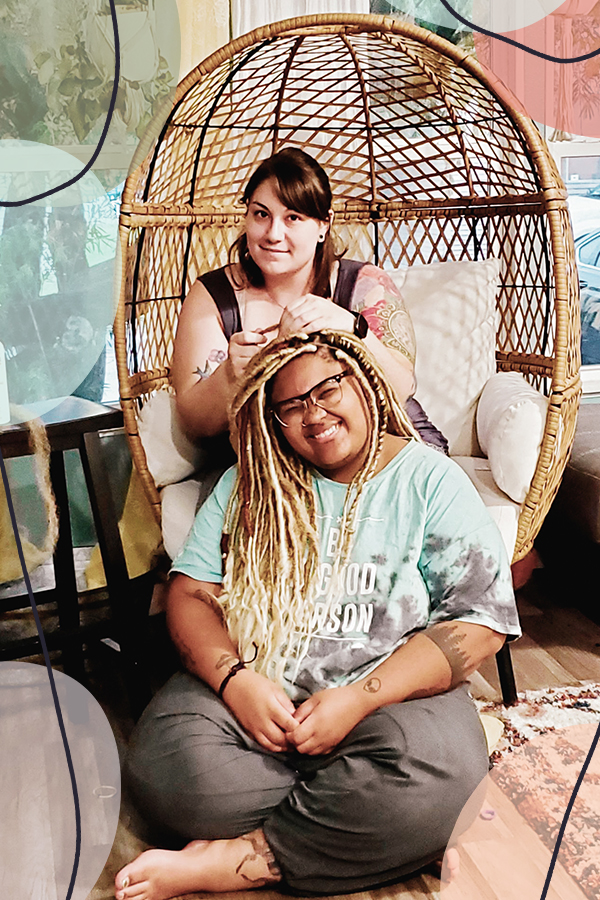 HG: What is one thing you want to do together post-pandemic?
Brianna: Get a massage! Travel, also. We were supposed to go to Red Rocks in Colorado for Courtney's birthday, but that was canceled. So it would be amazing to finally take that trip.
Courtney: Going to festivals again. Bri and I are really into the festival scene and all of our festivals for the year have been rescheduled for 2021, so any type of live music would be great post-pandemic.
HG: If you could write a two-sentence love letter to your partner about this time, what would it say?
Brianna: I wouldn't rather quarantine with anyone else but you. I think we've learned a good balance of how to help each other and be supportive through difficult times while also respecting each other's feelings and space.
Courtney: Thank you for always being my rock and rope when I am in a hole. This quarantine has been difficult, but spending more time with you has lifted a weight from my shoulders.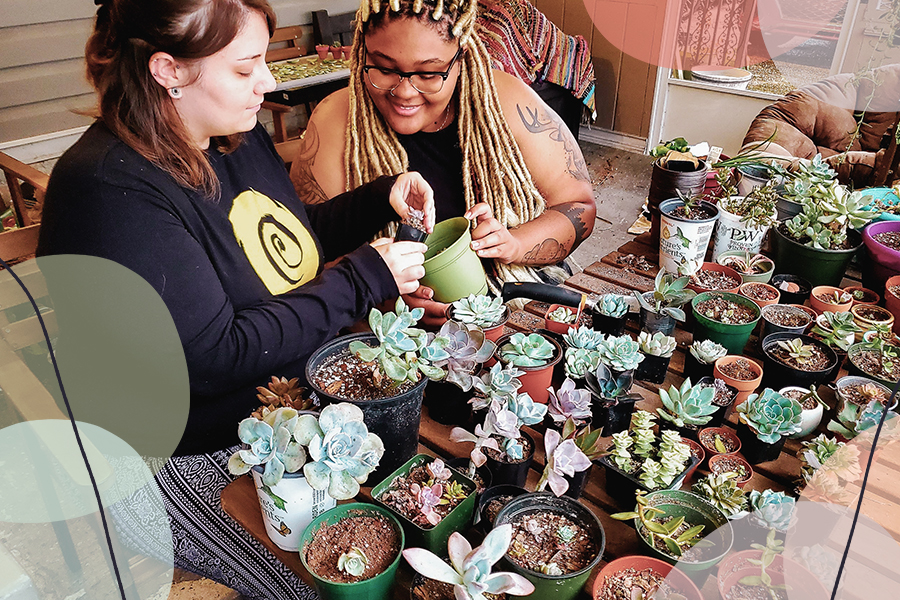 For more Pride Inside & Out stories, click here.