This ad campaign encourages LGBTQ couples to keep on holding hands, and we're tearing up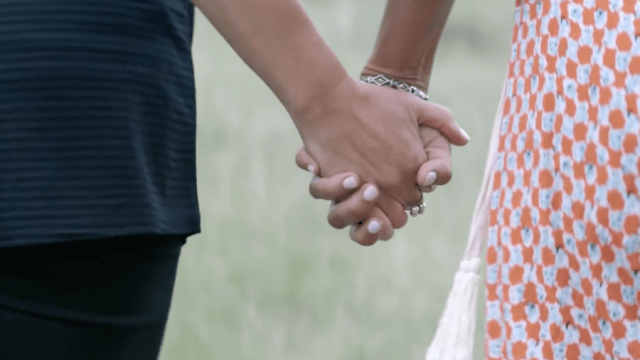 It's not every day that an ad for a bank makes us cry happy tears, but this moving ad campaign encourages LGBTQ couples to hold hands even when it seems (and is) scary and risky, and our hearts are overflowing thanks to this LGBTQ affirming ad campaign.
It may be 2017, and we may have marriage equality, but that doesn't mean that it isn't still way scary to be LGBTQ. For LGBTQ couples, that can mean being afraid to do everything from hold hands in public to being open about their identity at work. Even though ads like this only do so much, it's a definite step in the right direction.
This LGBTQ affirming ad campaign is the result of a partnership between The Bank of Australia and New Zealand and Sydney's Gay and Lesbian Mardi Gras, and it's seriously so beautiful.
https://www.youtube.com/watch?v=kE8YLs-_SR8?feature=oembed
We have all the feels right now. The video's main message, "When you feel like letting go, hold tight," is beyond moving, and we know it's something many will appreciate hearing.
Why the ad? The company explains simply,
"Even in 2017, the simple act of holding hands is still difficult for some people. Let's change that.
Just watching these loving couples go from holding hands to nervous and afraid makes our hearts sink.
One commenter says, "Thank you ANZ! Beautiful and touching video!" while another says, "Someday someone's also gonna hold my hand this tight and I won't ever let him go. Thank you, ANZ. :)"
One commenter, MarkJSau, even shared their own story, writing,
"On our wedding day (in Wellington), I promised my husband I'd always be there to hold his hand. He promised that we'll be that old couple walking down the street hand in hand... and that we'll keep educating the other passengers on our local tram. This ad affirms so much of what we strive to achieve in the public declaration of our relationship. Thanks and well done ANZ."
Yep, these are actual tears in our eyes. While ads like this aren't the solution to these issues (we still need activists and advocates to keep fighting the good fight!), they do create a sense of inclusivity and remind LGBTQ people and couples that who they are is okay, their love is real, and they deserve to feel safe.