6 Ways to Level Up Your Skincare Regimen for the New Year
Time to get skin back in tip-top shape!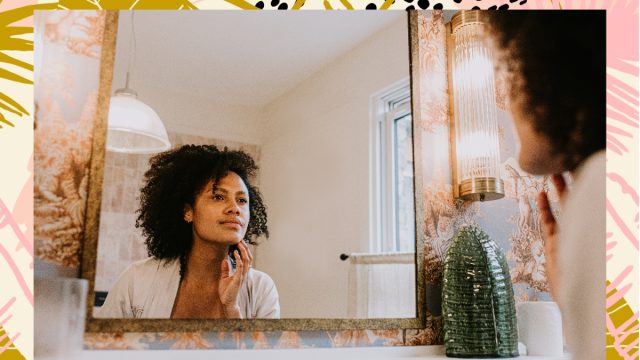 The product recommendations in this post are recommendations by the writer and/or expert(s) interviewed and do not contain affiliate links. Meaning: If you use these links to buy something, we will not earn a commission.
It's the end of the year and the status of your skincare routine may be influx. There are a number of reasons change could be on the horizon, including but not limited to lifestyle adjustments, bad reactions to certain ingredients, or a desire to switch things up simply because you love buying new products. We get it. Sometimes a Sephora haul is just too good to resist.
The end of the year is also an ideal time to check-in across all fronts. In the case of your skincare routine, this means ensuring you're getting the most out of your products, and that those products are delivering positive results, and that the routine doesn't feel overwhelming to do everyday.
This year's biggest beauty trends were undoubtedly dictated by the usual suspects – red carpet and runway trends, buzzy product drops, YouTuber hauls – and TikTok, where trends seems to come and go quicker than they ever have.
It's been a dizzying journey through 2022 and unless you're on a desert island, you've been impacted by the never-ending content stream. If you're someone who feels as though they need a fresh start and to level up in the skincare department, here are the easy and expert-approved ways to make it happen fast.
RELATED: 7 Upgrades I Made to My Beauty Routine In My 30s
1. Nix the expired products
When it comes to expiration dates, skincare products aren't discussed as much as makeup products because the latter has a generally shorter shelf life. For example, mascara is best used within three months of purchase. That being said, it isn't uncommon for a moisturizer or sunscreen to gather dust and be used way longer than they should.
Before you do anything, get rid of your old products, some of which may be the reason you need an upgraded routine in the first place.
"It is important to use skin care products within their 'best before' end date to achieve the best results from the product," says Carl Thornfeldt, M.D., clinical dermatologist and creator of Epionce. "This is particularly true of sunscreen products as they become less effective over time."
Most skincare products have expiration dates printed on the packaging, but if not, you have another option.
"I think the best rule of thumb to follow is ditching the product a year after it has been opened," says Dendy Engelman, M.D., of the Shafer Clinic in New York and fellow of the American Academy of Dermatology. "This depends on what kind of product it is, and what its main ingredients are, but in most cases skincare products are only good 10-12 months after opening."
A standout exception would be retinol, which typically has a shelf life of 3-6 months, depending on the formula. To lessen the chance of wasting product, don't be afraid to ask for product samples before committing to a full-size version.
2. Stay informed
The old cliché adage "true beauty is inner beauty" still rings true. Dr. Engelman believes that "recent statistics in skincare provide insight into how much more time and research people are adding into their skincare routines." In other words, consumers care more than ever about what's in their products as much as they care about the results of using them.
To that same point, there are still plenty beauty enthusiasts who could do better in 2023 by simply informing themselves about the all-too-common diseases or habits that could negatively impact their skin, and shopping accordingly.
"Less than 50 percent of millennials are informed about skin cancer. I found this statistic shocking because we know so much more about the importance of daily SPF application and prevention," says SkinSpirit nurse practicioner Hillary Mills. "It is crucial that younger generations are educated about the severity of melanoma and the measures we can take to prevent those cancers from ever forming."
3. Lay off the active ingredients
There was a time when retinol seemed to be the only skincare product anyone wanted to talk about. Right now, someone in your group chat is probably looking for one or recommending their go-to product to everyone else.
While we're not saying you should throw your retinol away, a hyper-focus on active ingredients can actually do more harm than good, in the long run.
"In 2022, we saw a lot of products skyrocket in popularity that contained active ingredients. Products such as retinoids were the answer to everything in 2022, but come the new year, I think that this will change," adds Dr. Engelman.
"The new year will have us repairing and restructuring our skin, rather than using products with harsher ingredients. Skincare products that focus on 'gentle' approaches to skincare will see a rise in popularity," she adds.
4. Prioritize your skin barrier
To that same point, Dr. Thornfeldt recommends a "do no harm" approach to your skin. Besides sticking to the universal basics of skincare maintenance – cleansing, moisturizing, and sun protection – he emphasizes that "healthy skin begins with a healthy skin barrier."
Instead of hyper-focusing on eliminating blemishes with chemical formulas, give a little more TLC to your skin barrier instead, which will help prevent the breakouts that lead to more products. In the long run, you will save a lot of money and time.
This means, of course, eating a healthy diet and using plant-based ingredients instead of synthetics to reduce the potential for skin reactions.
"It's widely known that UV damage is a driver of skin aging, but other factors such as pollution can also damage your skin. This includes exposure to various types of chemicals and impurities, not only in urban areas but also rural areas caused by chemicals used on farms or near forests polluted by smoke from wildfires. The skin barrier not only provides a protective function, but it regulates the total function of the skin," he says.
"Take a simplified 'Less is More' approach using barrier-nurturing products formulated to care for your skin without doing harm to your protective barrier. Choose products that nourish and are non-irritating. Botanical ingredients like apple fruit, licorice and turmeric extracts offer similar skin-brightening and anti-aging benefits without the associated photosensitivity. Your skin care products should feel good when applied to the skin," explains Dr. Thornfeldt.
5. Mind where you buy
In a marketplace as crowded as the beauty sector, where you buy your products is probably an afterthought. Don't let that happen in 2023.
In the same way that you would research products before purchasing, Mills says you should be just as mindful of the websites and stores you order from.
"Dermstore is the best place to access high quality medical grade skincare on the internet. They store their products in the correct environment to keep them chemically balanced and safe, and they are sold from reliable vendors," she says. "I always warn my patients about the dangers of purchasing medical grade skincare on Amazon, where often times the products are not even legitimate. Don't be fooled by that lower price tag!"
6. Embrace your face
We'd be remiss to ignore the advances being made in the world of non-invasive beauty treatments. For example, Mills thinks that biostimulator treatments are the wave of the future. "I like combining Sculptra or threads with the classic Botox-and-filler combo for a softer, more natural result," she adds.
Still, she thinks honoring your natural features are a surefire way to level up, whether you choose to jump on the treatment bandwagon or not. In Mills' experience, she's seeing more clients ask for treatments that compliment their natural features, as opposed to disguising them.
"Overfilled lips are out. No more duck lips, no more trout pout. I am thrilled to be seeing the transition to natural lips that respect the anatomy and boundaries each patient has. I am happy more patients are open to dissolving old filler as well so we can start fresh with a blank canvas, instead of continuously adding more on top of what they already have."
None of these expert tips are magical solutions but with time and consistency, your skin will reap the rewards of your research and responsible buying habits. See you fresh-faced in the new year!