Let's celebrate Angelina Jolie's 6 most iconic roles on her 42nd (!!) birthday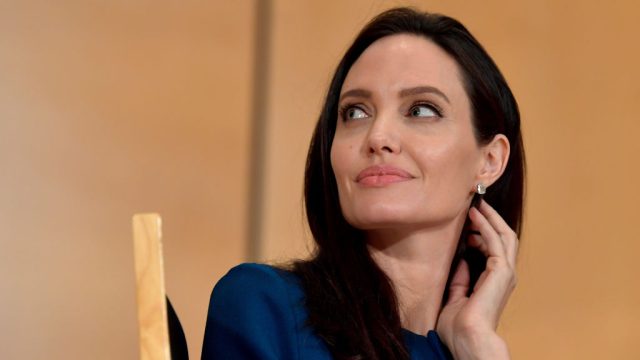 She's beauty, she's grace, and now it's time to celebrate the one and only Angelina Jolie, because it's her birthday! Her 42nd, to be exact. She's accomplished a lot in those 42 years, from penning brilliant New York Times op-eds to introducing her six kids to Cambodian royalty, and oh yeah, parenting six kids!
It's almost easy to forget all of the amazing movie roles Jolie has had over the years, since she's recently shifted focus to her humanitarian work. On her 42nd birthday, though, it's only right to celebrate by looking back at her most iconic acting roles,
These are the six most memorable roles Angelina Jolie has played over her many years in Hollywood.
1. Lisa in Girl, Interrupted (1999)
https://www.instagram.com/p/BUxf8xMDNyO
Who can forget the icy-coolness of Jolie's portrayal of Lisa in Girl, Interrupted. Acting as Winona Ryder's character's mental hospital tour guide, Lisa was the perfect eerie-but-likeable sociopath.
2. Jane Smith in Mr. and Mrs. Smith (2005)
https://www.instagram.com/p/BU7DxQYhBin
Though the movie only received a 59% on Rotten Tomatoes, it reached "box-office gold," proving that scandal really can be the best publicity. Whether or not the movie is actually good seems almost insignificant, considering the Hollywood romance it helped birth (Brangelina, in case you'd forgotten).
3. Lara Croft in Lara Croft: Tomb Raider (2001)
https://www.instagram.com/p/BU6fgMLlHvL
Yes that role, which still inspires thousands of Halloween costumes each year. Jolie was the strongest and sexiest action heroine we'd seen at that point, and the 2001 film had audiences feeling very welcomed into the new millennium. The role was transformative, not just for viewers who fell in love with Angie as a badass (men and women alike), but it also changed Jolie's real life by introducing her to Cambodia, where she adopted her first son, Maddox.
4. Gia Carangi in Gia (1998)
https://www.instagram.com/p/BGjRGq4oCXY
Even before Girl, Interrupted, Jolie shone in a biopic about supermodel Gia Carangi. The made-for-TV movie may not have been exceptional, but Jolie's performance in it was, and it was a turning point for her career.
5. Christine Collins in Changeling (2008)
Ten years after Gia, Jolie had matured and masterfully played the mother of a kidnapped son in a Clint Eastwood film set in the 1920s. This film earned Jolie a nomination for Best Actress at the Academy Awards, and it showed her true acting chops, which perhaps were aided by her own experience as a mother.
6. Maleficent in Maleficent (2014)
Sensing a pattern here? Angie J is SO GOOD at playing evil villains who have a complexity to them that makes you consider the humanity and pain within. Yeah, that might be a bit of a reach with this Disney movie, but Jolie nails the role so thoroughly that it's getting a sequel.
https://www.instagram.com/p/BU7WjK2glxY
We love the beautiful and brilliant badass that Angelina Jolie is, and we're wishing her the Happiest Birthday!