The NRA used a Leslie Knope GIF, and Amy Poehler is rightfully pissed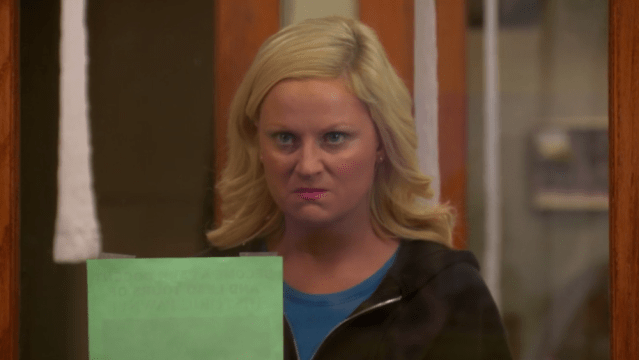 The town hall about gun control that CNN hosted in Sunrise, Florida on Wednesday, February 21st, provoked a lot of intense emotions. The event allowed Marjory Stoneman Douglas High School shooting survivors and victims' family members to confront lawmakers and a representative of the National Rifle Association face to face — and those directly affected by last week's tragedy, understandably, had a lot to say. Powerful statements from the evening's proceedings — from survivor Cameron Kasky pressing Senator Marco Rubio on donations from the NRA to Stoneman Douglas history teacher Diane Wolk Rogers schooling NRA spokesperson Dana Loesch on the 2nd Amendment — swiftly spread across the internet. But when the NRA attempted to get their response to the town hall to go viral by using a Leslie Knope GIF, they messed with the wrong Pawnee Parks Department hero.
The gun rights group tweeted its thanks to Loesch following her appearance at the event, saying, "thank you for being the voice of over 5 Million #NRA members." The problem was that whoever was running the NRA Twitter account decided it would be a good idea to include a cheeky Parks and Recreation GIF of Amy Poehler's Knope also saying thank you.
Note to whoever was running the NRA Twitter account: It was not a good idea.
Parks and Rec creator Michael Schur quickly clapped back, asking the organization to remove the GIF and adding, "I would prefer you not use a GIF from a show I worked on to promote your pro-slaughter agenda." Schur also relayed a message from Poehler, who's not on Twitter:
"Can you tweet the NRA for me and tell them I said f*** off?"
Schur and Poehler weren't the only Parks and Rec alums to chime in, of course.
Nick Offerman made it clear that Ron Swanson would want nothing to do with the gun group's agenda, and Adam Scott, who played Leslie's husband and fellow government employee Ben Wyatt on the show, kept things simple, saying only, "Hey @nra please stay the f*** away from Leslie Knope." Schur's original message calling out the GIF has, as of now, been retweeted more than 96,000 times.
Leslie Knope may be fictional, but she definitely wouldn't stand for a special interest group and some stubborn senators trying to silence a group of passionate, informed young people. Town halls were kind of Leslie's thing, so the fact that this is when the NRA decided to use her in a playful GIF to back a cause she obviously would fight against seems particularly shameful.
Had Leslie Knope been at Wednesday night's event for real, we're confident she not only would have rejected the praise of Loesch's group, but also would have advocated for the voices of the next generation to be heard, in that auditorium and at the ballot box.