An artist has created a perfect Leslie Knope badge to "eff the NRA," and the "Parks and Rec" cast loves it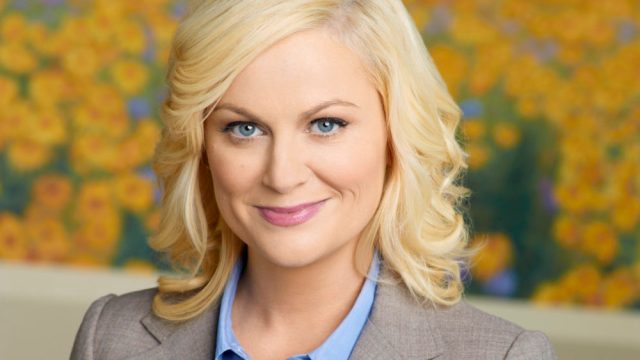 Three years after Parks and Recreation's last episode aired, we can still count on Leslie Knope to inspire the hell out of us. The queen of the Pawnee Parks Department has popped up in a few headlines this week. First, our new hero, Marjory Stoneman Douglas High School student Emma González, paid homage to Knope by responding to Michelle Obama's words of Twitter encouragement with a perfect GIF of the character being in awe of Obama on the show. Then, the people over at the NRA made the ill-advised call to also use a Knope GIF in support of NRA spokeswoman Dana Loesch's appearance in a heated CNN town hall about gun control.
Needless to say, that choice didn't go over well with Leslie Knope herself, aka Amy Poehler. But much to our delight, Poehler's response to the NRA's response just got a fabulous animated tribute. And it obviously puts Leslie Knope front and center.
Los Angeles-based illustrator and graphic designer Chris Ables designed a campaign-style badge/button that features Knope in cartoon form and encourages people to "Vote like Knope," with an additional message draped across the bottom of the image echoing Poehler's rightfully angry reaction to the NRA co-opting her alter ego: "Fuck the NRA."
Parks and Rec's Ben Wyatt (Adam Scott) shared the image on his Instagram account on Friday, February 23rd, and thanked Ables for making it.
Aubrey Plaza, who played April on the show, also shared the image on her Twitter account. The middle finger to the NRA part of the message is a reference to Poehler saying the NRA can "fuck off," via Parks and Rec creator Mike Schur.
Anyone who's ever seen Parks and Rec could tell you Ables is exactly right; Knope would want nothing to do with the NRA's agenda (and the show's cast and creator have obviously confirmed that stance). Instead, she'd be proudly standing with the passionate young people like González and other teens who have been making their voices heard.
And, honestly, we wouldn't be surprised if some of them start sporting Ables' design.