Leslie Jones' Olympics Commentary Is Truly the Best Part of the Games
She better be at 2022 Beijing Winter Olympics.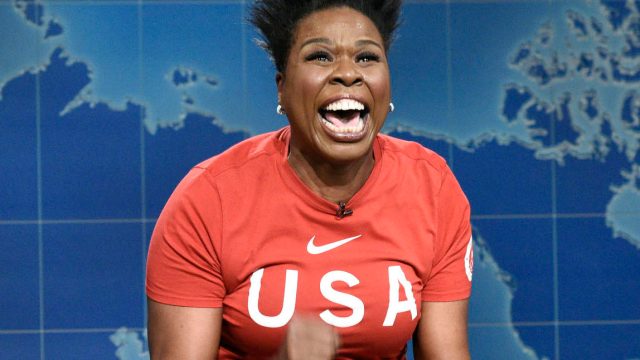 If commentary was an Olympic sport, comedy queen Leslie Jones would be a three-time Olympic gold medalist by now. While she may not be in Tokyo reporting from the sidelines (we can only imagine her reaction if she got to speak with Caeleb Dressel), Jones has been posting premium comedic content around the clock as she cheers on her favorite athletes from home, like the rest of us. Her excitement and passion for the Olympics has kept us amped since the day it all started in July. 
From hyping up Team USA before a big competition to dropping hilarious one-liners, Jones' live Olympic commentary on her social media is guaranteed to bring a smile and laugh to your face. Catch up on some of Jones' funniest Olympic moments ahead!
*Watching bikers trying to peddle up a stone-paved hill* Jones: Is this really necessary?!
When she pointed out that horses deserve Olympic medals just as much as equestrians.
Jones' commentary on Dressel swimming is her literally reading every mind in America right now.
Anyone else keep one eye closed while watching beam routines?!
Jones' real thoughts on the Triathlon:
Finding out her homegirl Lily King made it back for another Olympics.
One word: Steeeeeeeeeve!!
When she (correctly) predicted this would be a good race.
She was just as excited for Simone Biles' balance beam appearance as we were.
You know what? Not only did she state that steeplechase should have its own Olympics, but she also asked where all the men were to put their coats over the mud puddles. You're not wrong.
Thank you, Leslie, for being such a delight during the Tokyo Games. We can't wait until next time!
Emily is a NYC-based freelance entertainment and lifestyle writer — though, she'll never pass up the opportunity to talk about women's health and sports (she thrives during the Olympics).
Read more