Leslie Jones' fashion commentary at the 2018 Winter Olympics is totally stealing the show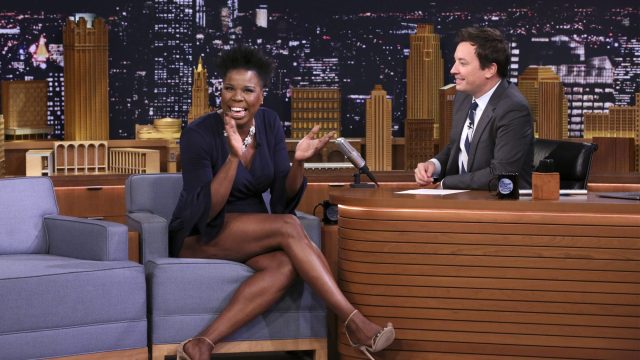 Pretty much anything is better if Saturday Night Live star Leslie Jones is involved, especially her commentary during the 2016 Summer Olympics.
Luckily for us, Jones is back to live-tweet the 2018 Winter Olympics in Pyeongchang, South Korea. The comedian was asked to cover some of the live events, and she's already given us a sneak preview of what's to come with her amazing sartorial insight.
In case you missed it, Jones is the ultimate Olympics superfan. For the 2016 Summer Olympics, she had us LOLing with her enthusiastic tweeting on her favorite sports. After dressing up in some patriotic ensembles and sharing her deep love of all things Olympics, NBC decided to send her down to Rio de Janeiro as an official commentator. (They even made her a Snapchat filter!)
Jones' comedic chops have been on display for years, perhaps most notably as a writer and cast member on SNL beginning in 2013. She also starred in 2016's Ghostbusters reboot as Patty Tolan, alongside fellow SNL actors Kate McKinnon, Melissa McCarthy, and Kristen Wiig.
As a warm-up for this year's Olympics, Jones jumped on Twitter early to share her thoughts on figure skating fashion. Unsurprisingly, the results were hilarious.
She was NOT here for this German skater's questionable costume choice.
Jones was really feeling this look, especially in light of his Beyoncé moves.
But then Italy made an appearance, and Jones said what everyone else was probably thinking. "What is happening? Do the men not get nice outfits?"
And just when she thought all hope was lost for men's skating apparel, this happened.
Leslie Jones even got her good friend and designer Christian Siriano involved. For the record, we would love to see some Siriano skating designs.
Jones' fashion commentary continued with the couples events.
She especially loved the commentators' blinged-out headsets.
Needless to say, we've got Jones' Twitter page bookmarked for the next few weeks. How about you?