A dress code rule almost kept this teen from graduating – until a stranger volunteered to trade clothes with him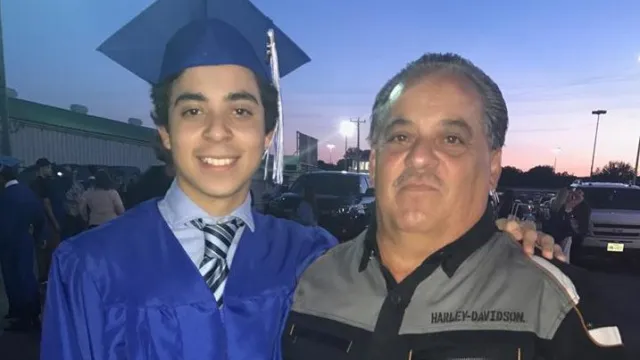 High school graduation is upon us, and what could be more exciting than strutting across the stage to accept that diploma in front of your family? Graduating is a big (as in capital B-I-G) moment in the trajectory of any teenager's life. No wonder so many students dress to the nines for this special occasion. Well, Leroy Solis Jr. nearly missed graduating due to a dress code rule. Three minutes before Leroy was set to receive his diploma, the principal pulled him aside and told him he couldn't walk the stage due to his jeans and lack of tie.
Whoa! So, what did he do?
Leroy asked the first stranger he saw if he would let him borrow his pants.
To his shock and our shock, the man actually agreed!
Yes, a complete stranger offered up his trousers to the teen, so he could take part in the once-in-a-lifetime event. Our hearts are beaming with joy at this very notion.
Leroy's dad and the stranger ushered Leroy into the car where he quickly re-dressed. Oh, and he solved the lack-of-tie issue by buying one from an outside vendor for ten bucks. A vendor selling ties? Wow, can you say kismet?
You might be wondering why the teen wasn't "properly" attired for the event.
As it turns out, Leroy was thinking about his single dad. He didn't want to burden him with the costs of purchasing a spanking new outfit. And, when you really think about it, isn't the whole enchilada covered up by the gown anyway? We don't think denim should be the reason a hardworking teen isn't allowed to celebrate his high school achievements.
Needless to say, Leroy and his entire family were so moved by the stranger's act of kindness.
They never did find out the stranger's name. Leroy's sister, Rosemary De Los Santos, posted a photo on her Facebook page in the hopes of reaching the benevolent man who saved their big day. The post has already reached 1,500 likes.
In the post, Rosemary tells us that, when asked if he'd swap his slacks, the stranger did not hesitate to say YES. She realized:
"There's still good people out there with huge hearts," Rosemary told Teen Vogue. "My brother would not have walked across the stage had it not been for these kind strangers. People still care."
We're breaking out the Kleenex. It just goes to show you, small deeds can have an enormous effect. We're sure this is one high school memory Leroy will never forget.