Leopard lips are the insane new beauty trend taking over Instagram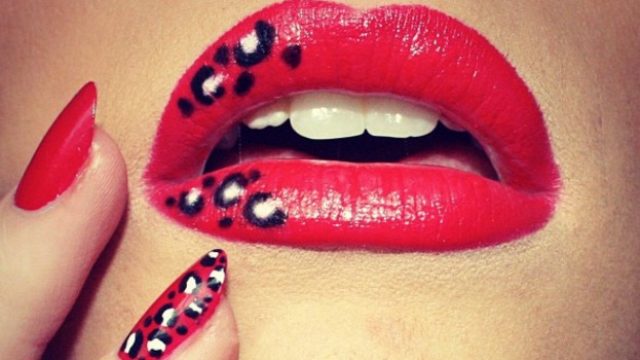 Leopard print is such an iconic pattern that it's basically a neutral. And though we don't think we can ever get bored with it, we've found a fun new way to wear it, thanks to Instagram. Leopard-spotted lips are popping up all over our feeds, and we're totally fascinated by the trend.
It's a fun, wild trend that can quickly upgrade your makeup look, and it's actually pretty easy to recreate, even if you're new to lip art.
It looks best when you use high-contrast shades in different color families, that way you can really see the effect. If the colors you pick are too similar to each other, the end result will just look like a spotty application of lipstick.
To do it yourself, be sure to use a liquid matte lip color or a sheer lip stain as a base – you don't want anything overly sticky or creamy since it will easily smear. Once you have your base, you can draw on the the spots with liquid eyeliner. We highly recommend using something waterproof.
That's it! You're done! As Seventeen suggests, you can take the look one step further by adding glitter, but that's totally optional. It might take a little practice to get the finished look you want, but that's the great thing about makeup — it comes right off so you can put more on!
You don't have to stop at leopard print either. You can experiment with other animal prints, such as below:
If you can't get this look quite right or feel you just don't have the skills to do this yourself, you can look into temporary lip appliques, which work similarly to temporary tattoos. Violent Lips has several different animal prints, such as giraffe, tiger, and zebra in addition to leopard, that you can easily apply with little skill.