People are obsessed with Leonardo DiCaprio's sign at the Climate March
Over the weekend, thousands of protesters around the world — from Asheville to Amsterdam — came together for the People's Climate March. Tons of celebrities spoke out in support of the event, including Kerry Washington, Mark Ruffalo, and Alyssa Milano — and well-known environmental activist Leonardo DiCaprio was spotted at the climate march too.
Leo is a very vocal supporter of environmental sustainability, so it wasn't exactly surprising to see him among the throngs of protesters in Washington D.C. But it was Leo's homemade sign that is making headlines, and it's the most adorable thing we've seen all day, if we're being honest.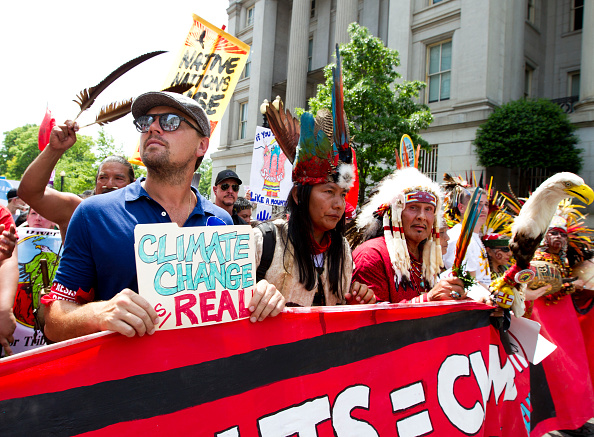 It appears that  Leo re-used a manila file folder he had lying around to create his "CLIMATE CHANGE IS REAL" sign. Which is so strangely…normal. And un-Hollywood (but hey, that's upcycling if we ever saw it). false We were thrilled to see so many people — and so many people with public platforms, like Leo — making their voices heard this weekend and supporting an incredibly important cause. But we've got some questions about the sign too (like, did he make it himself? Cue: Image of Leo frantically trying to finish his sign in time for the march using only the random office supplies he could find in the hotel).
Leo has done a lot of big things to express his concern for climate change and the environment. In 2016, he produced a climate change documentary called Before the Flood. Also, his namesake foundation, The Leonardo DiCaprio Foundation, is "dedicated to the long-term health and well-being of all Earth's inhabitants."
Leo's foundation has given $61 million to various environmental causes. We are so thankful for his support, and we absolutely love his sign at the march.
Leo, keep doin' your thing. The earth needs you.