Lena Waithe's blazer made a powerful point about the 2019 Met Gala theme—here's why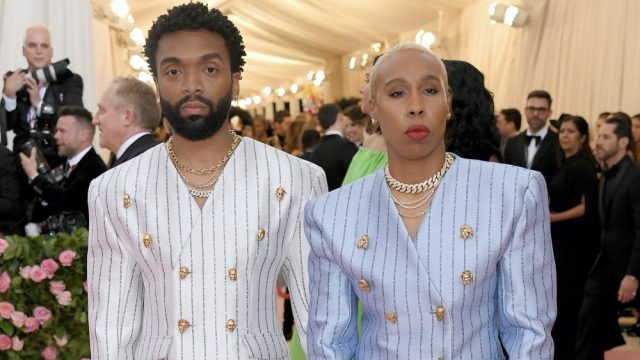 With a theme like "Camp," we knew we'd see some incredible fashion at the 2019 Met Gala (May 6th). And leave it to writer and actor Lena Waithe to make a key political point on the pink carpet. Waithe and designer Kerby Jean-Raymond wore matching pin-stripe suits to honor the black drag queens who started the entire camp movement.
"We collaborated on really bringing a message," Waithe told E! News about working with Jean-Raymond. "To me, I really wanted to make sure my outfit represented the black drag queens who started this camp thing about being over the top and all that jazz."
The back of her icy blue blazer, pin-striped in hip-hop, pop, and rap lyrics, read "Black Drag Queens Invented Camp."
"People like RuPaul," she continued, "all these pioneers who really started this whole thing and I really wanted to pay tribute to them.
"Camp, to me, means it's a little bit over the top, but it also means to take everything you try to do to the next level," Waithe told E! "It's about being extra. It's about doing the most. And black folks do the most all the time."
Jean-Raymond's jacket read, "Fix your credit. Pool money. Buy back the block," which is a direct reference to the gentrification of marginalized black communities.
Waithe's message served as a literal reminder that the camp movement was founded within niche black culture. And although it's definitely fun to be inspired by the camp aesthetic, it's also important to be aware of—and respect—its roots.