Lena Headey just opened up about the shaming she faced after that big Cersei scene last season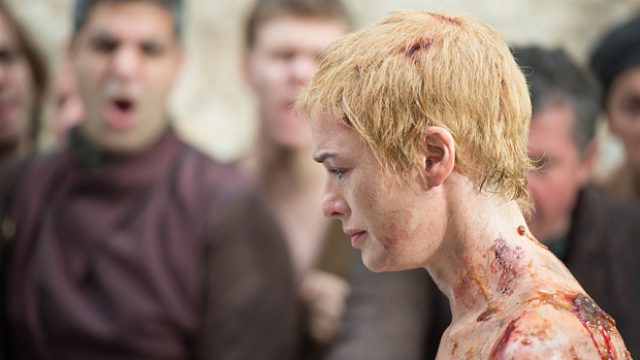 Cersei Lannister's walk of shame on the Game of Thrones Season 5 finale was difficult for a lot of people to watch. Naked, covered in filth, and forced to walk the streets in front of an angry, cursing mob, it's a difficult thing to watch anyone endure, and was just as hard for actress Lena Headey to perform.
EW recently sat down with Lena Headey, the actress who plays Cersei, and she finally opened up about that stripped-down moment for her character.
"Some people thought I was less of an actress because I didn't get my tits out," Lena said, referring to the body double that stood in for her during the scene.
An actor's process is a very personal thing, and Lena gave a lot of credit to her body double for her fortitude during the difficult scene.
Lena went on to say that people judged her for her choice of stand-in, too — accusing her of casting the most beautiful body she could find.
Cersei Lannister certainly has her character flaws, but Lena Headey clearly has her head in the right place. It's sad that she endured her own shaming for a scene that was clearly difficult for both Lena and Rebecca to film. We hope fans lay off her for making the choices she did. She had her reasons. So how did the ordeal affect Cersei?
"I don't think she's found any humility," Lena Headey says. "She's even more self-preservatory. She can't believe that happened to her, of all people. It's fueled her desire for power and her desperation to prove that she's somebody worth considering."
As for Season 6, GOT fans have a lot to look forward to, according to Lena: "It just keep getting better," she said, "It's so juicy, and it's so fucking dark, and so emotionally clever, in this landscape. It sounds so cheesy, but I'm really grateful to be part of something so cherished."