Lena Dunham got real about her difficult decision to rehome her dog Lamby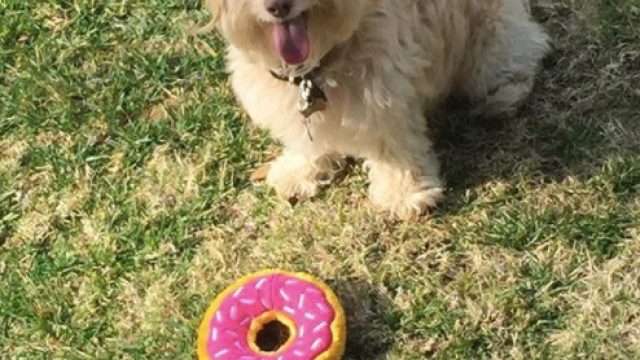 Lena Dunham, as you are surely already aware, is the queen of honesty. From her sex life, to her endometriosis, to her relationship with her body, the writer/director/actress will get real about just about anything. But there's one thing that she has admitted today that she has been very apprehensive to share. Lena had to rehome her beloved dog, Lamby. She no longer felt confident taking care of him, as Lamby had a specific set of behavioral problems that stemmed from his unfortunate abuse as a puppy. So heartbreaking.
The good news is, though, that Lamby is happy in his new home.
She shared her pup's full story on Instagram this morning. It's a bit long, but we think it's worth it to share it in its entirety.
https://www.instagram.com/p/BAnX6X1i1HC
"A lot of you have been asking where Lamby is these days since he's always been the star of my gram and I've been posting pics of my poodle girls. Well, you know honesty is my jam but this one has been really heartbreaking to talk about. But I feel I have to share that last March, after four years of challenging behavior and aggression that could not be treated with training or medication or consistent loving dog ownership, Lamby went to live at an amazing professional facility in Los Angeles @matt_thezendog where an awesome person named @therealdanishay (who is educated in a rescue dog's specific trauma) loves him so hard."
https://www.instagram.com/p/BA7beowGSC3
"Lamby suffered terrible abuse as a pup that made having him in a typical home environment dangerous to him and others. We needed to be responsible to ourselves, our neighbors and especially our beloved boy. Jack and I will miss him forever but sometimes when you love something you have to let it go (especially when it requires tetanus shots and stitches). Someday I'll really write about the pain and relief of letting Lamby go off and really be Lamby, biting and peeing in his own mouth and all."
https://www.instagram.com/p/BCDqwt3i1Ph
https://www.instagram.com/p/BVlp8TEFRge
"PS If you have a similar situation, please know it's possible to responsibly re-home your rescue rather than sending them back into the shelter system. It can require patience, diligence, and often a financial contribution but there are solutions that leave everyone happy and safe. You will always have been your dog's first stop outside shelter life and that's beautiful."
We respect your honesty, Lena, as usual. We can't imagine how difficult it must be to talk about this! We're sure you're not the only one who has gone through this experience, and we hope your words can help others.