Lena Dunham just dyed her hair blue, and we're loving this new look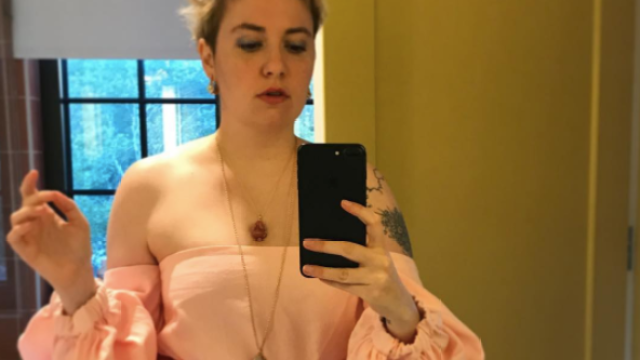 Hannah Horvath, is that you? Lena Dunham debuted a bold new hair color on Instagram, and it's a major departure from her usual brown locks. In the Instagram post, the Girls actress showed off her new-ish pixie cut dyed blue — hilariously dubbing it a "hot smurfjob." We love how layered her blue hair is, and that you can see Dunham has brownish-black underneath the vibrant blue.
https://www.instagram.com/p/BaI9Mf2FwHr
Dunham made waves recently with a powerful op-ed in The New York Times denouncing the silence of men in Hollywood. She wrote directly in response to the explosive allegations of sexual assault and harassment against film executive Harvey Weinstein that span over decades.
In it, she wrote:
"The reason I am zeroing in on the men is that they have the least to lose and the most power to shift the narrative, and are probably not dealing with the same level of collective and personal trauma around these allegations. But here we are, days later, waiting for Mr. Weinstein's most powerful collaborators to say something. Anything. It wouldn't be just a gift to the women he has victimized, but a message to the women who are watching our industry closely.
A bold op-ed definitely warrants bold new hair. Get it, girl.