Lena Dunham just revealed some major spoilers about Season 5 of "Girls"
We're only two episodes into Season 5 of Girls, but what a two episodes it's been. Marnie and Desi got married, Shoshana is living her best life in Japan and Adam and Jessa are DEFINITELY NOT making a go at things, you guys. All the while, Hannah is practically a full-blown adult, working as a teacher and being a parent to her own dad.
But there are still more episodes to come in Season 5, and a lot more opportunities for these stories to take twists and turns. Lena Dunham knows that we're dying to know more, so she shared some spoilers on The List App. Here are five things she revealed about this season of Girls: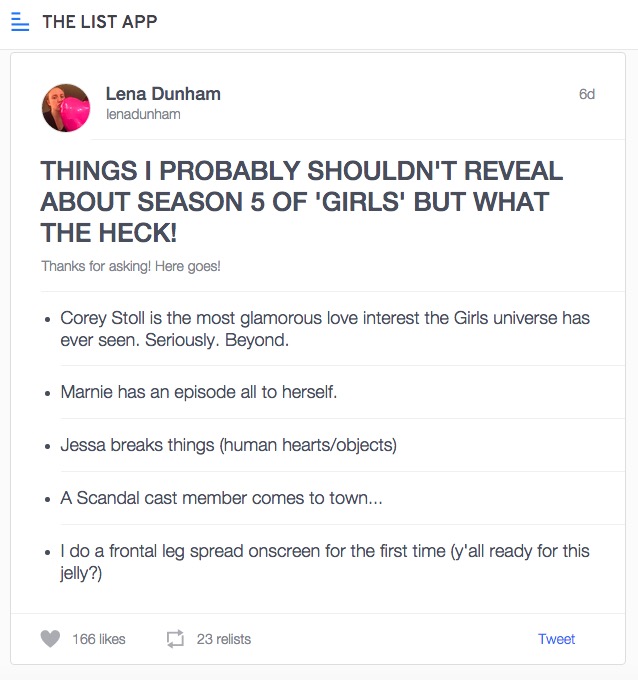 Okay folks, let's break this down with all our questions:
1. "Corey Stoll is the most glamorous love interest the Girls universe has ever seen. Seriously. Beyond."
When we saw Mr. Peter Russo himself in the Season 5 trailer, we were so excited. Corey made an appearance in last week's episode as a love interest for Elijah, and he had BETTER make another appearance. (Don't worry—according to IMDb, he totally does.)
2. "Marnie has an episode all to herself."
Will it be literally just her? Will Desi be there? (And will it make us like Marnie more?) This episode is intriguing, and we're curious to see how it plays out.
3. "Jessa breaks things (human hearts/objects)"
Well this isn't surprising. Though she's sober now, Jessa's behavior still manages to flip-flop between normal and destructive. The harder she tries to be whatever her definition of a good person is, the more trouble she inadvertently leaves in her wake. It sounds like we'll get another glimpse of her old ways soon enough.
4. "A Scandal cast member comes to town…"
Can you imagine Hannah running into Olivia Pope in Greenpoint? We kid, we kid — whoever the surprise cast member is, they almost certainly won't be playing their Scandal character. Unless a Girls x Scandal crossover episode is the magical thing that's been missing from our lives?!
5. "I do a frontal leg spread onscreen for the first time (y'all ready for this jelly?)"
Did Lena just say what we think she did? We know she's no stranger to a little bit of nudity, but it sounds like she's taking the art form to the next level.
That's all for now! Major props to The List App for getting this scoop!