Lena Dunham wrote a raw and painfully relatable essay about the loneliness she's felt since she and Jack Antonoff split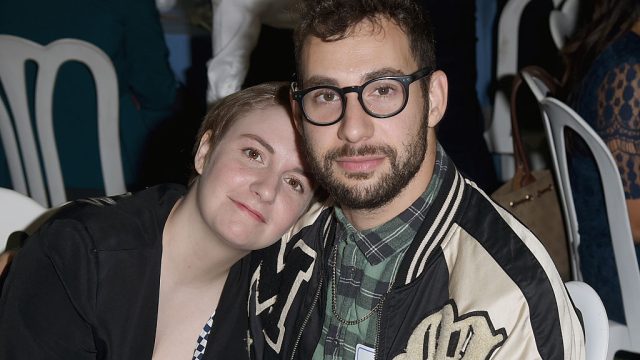 Lena Dunham and Jack Antonoff split in December 2017 after nearly six years together, and now Dunham has penned a raw, honest essay for Vogue on the reality of post-split loneliness. Typically with public breakups, the celebrity pair will release a formal announcement that they've split with their partner, there's little mention of it again, and life moves on. So when a famous person in a public and longterm relationship tells us how hard it's been to resume life after a split, we're grateful to see that we're not alone in what is often a confusing and lonely time.
In her essay for Vogue, Dunham described their breakup as the result of having "evolved separately," and that they punctuated their split with an empty promise to still go on dates. After the breakup, Antonoff stayed in their former loft while Dunham moved in with her parents, but she described the process of "moving on" as akin to "picking up a second job to make emotional ends meet."
Dunham said that when friends asked how she was doing, she'd reply, "I'm good, just chugging along." But she goes on to write, "If I were being honest I'd answer them by saying that my heart could still ache for one home as I returned to myself in another."
Dunham even admitted that toward the end of her relationship she'd dreamt about living alone again, but once it actually happened it was much more difficult to bear.
"As my relationship had unbraided itself, I would often fantasize about my own space, the mythical room of one's own that Virginia Woolf once told every woman writer to demand, and I'd go so far as to conjure a floor plan, place the furnishings down, stack my books. But that was easy to imagine with a living, breathing body beside me, the constant option to call someone and complain about the chaos of my day or the stain on my skirt or the irritatingly apologetic way in which the woman at the pharmacy had asked for two forms of I.D. Now, security blanket removed, folded and shipped to some distant warehouse, I moved in with my parents and lay across their spare bed texting everyone I knew, "sup?
She briefly mentioned a new romantic interest but wrote how hard it was to enjoy it: "Someone would be coming over soon, the electric current of new romance in the air, but I was still defining myself by what I had lost."
https://www.instagram.com/p/Bio_1gjBYiA
We're grateful for her honesty because this is a real and difficult narrative that celebrity culture often glosses over. We know Dunham's story will make many people feel less alone.