Lena Dunham explained why she was hospitalized after the Met Gala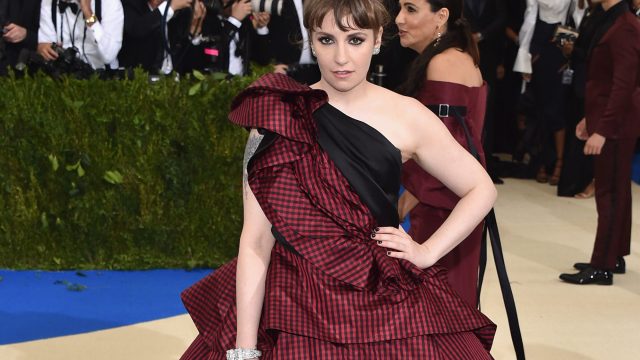 As most attendees of the Met Gala headed to after-parties, Lena Dunham headed to the emergency room. She posted a selfie on her Instagram yesterday showing herself in a hospital bed with her gown balled up next to her. In the caption, Dunham explained why she was hospitalized post-gala. She wrote,
"Thank you for all the love & concern that's been pouring in since Tuesday. Although I'm much healthier than I was a year ago, complications arose from my most recent endometriosis surgery."
In April, the Girls creator and actress underwent the fifth and last surgery to cure her endometriosis. She wrote in Lenny Letter that the surgery was successful in moving her ovaries away from her rectal wall.
Although Dunham's caption does not state if her endometriosis has returned, she made a point of stating how those with chronic illness should never be viewed as weak — but rather, STRONG.
"We serve major face on a red carpet when we feel like lying face down would be more appropriate. I'll always be proud of those Met Gala pics- not just because I felt beautiful, surrounded by art and magic, hugging my best friend tightly, but because they're evidence that women contain steely multitudes."
She also took the opportunity to express her concern for the state of the American healthcare system.
"When the healthcare of so many American women, especially our trans sisters, is at-risk- or already nonexistent- I am lucky to be in the position to seek help when I'm in pain. To those in that privileged spot- never forget that we are blessed and can pay it forward by supporting Planned Parenthood and LGBTQ clinics like Callen-Lorde with our 💰 and ⌚️."
Earlier that evening, Dunham sported a Planned Parenthood pin amidst the folds of her Met Gala dress.
She ended her hospital-selfie caption by stating that if one can battle with a chronic illness — whatever that illness may be — then one can truly do anything.
To Lena Dunham, and to every other person who struggles with a chronic illness: Stay strong and know that we support you!