This selfie of Lena Dunham and America Ferrera is pure #friendshipgoals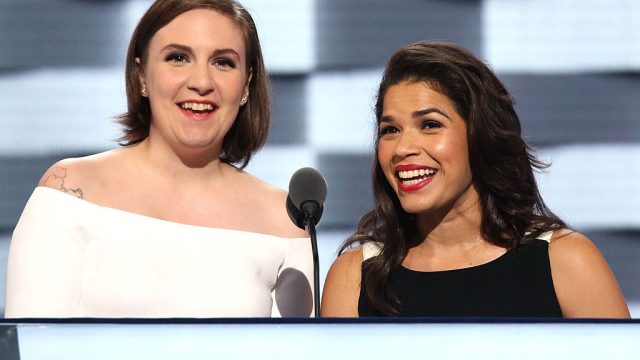 It's tough making friends as an adult, so when you find someone special, you've got to hold onto them. When you come in contact with someone who believes in something as much as you do, keep them around. Lena Dunham and America Ferrera both supported Hillary Clinton and made a speech at the Democratic National Convention together. And that's the kind of experience that awesome friendships are made of. As part of their involvement in the campaign, Lena and America grew closer. And now these two look like they're BFFs for life.
Lena Dunham posted this adorable selfie with America Ferrera and it's pure #friendshipgoals.
"Whenever I'm near @americaferrera I truly can't stop beaming. She appeared in my life like an angel and I ain't never letting go. Can't wait til she runs for prez and I can shout #americaforamerica"
This post gives us all the feels. First, Look at those two adorably squished together, having a blast. Plus, what a sweet and silly message for Lena to post. We've all had that friend that constantly makes us smile. And while it's probably a joke, we think America should totally run for president. We'd be with Lena shouting, "America for America."
A friend like these two is the best kind, because while you laugh together, you can also cry together.
And they're always down for a silly pose…
…or a serious, modelesque one.
These two ladies totally have this BFF thing rocking.
Now we just need to get into Lena and America's squad!