Lena Dunham gives advice for dealing with imposter syndrome and we're all ears
Girls creator and all around feminist role model Lena Dunham gives advice for dealing with imposter syndrome and it's something all women should try and remember.
Throughout Dunham's time on Girls as both the creator and lead actress, she has learned a lot about herself and the industry. In a new interview with Glamour for their February 2017 cover story, the 30-year-old star opened up about the "imposter syndrome."
She has advice for all the women out there trying to make a name for themselves, and you should really hear it.
"I could have worked with a sense of joy and excitement, rather than guilt and anxiety of being 'found out,'" Dunham told Glamour about her years on the HBO series.
"The advice I would give any woman going into a job if she has a sense of impostor syndrome would be: There will be nothing if you don't look out for you," the New York City native explained. "And I can't wait, on my next project, to go into it with the strength that comes from, like, valuing your own body and your own mental health."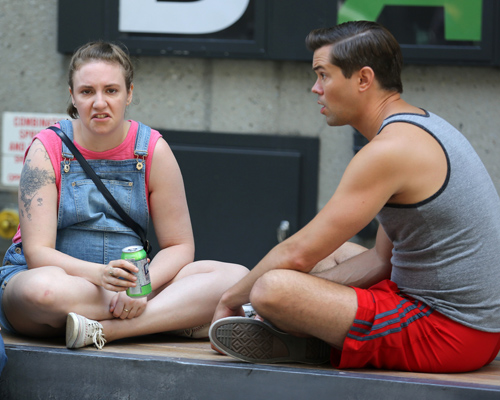 Dunham also admitted that although she is really close to her costars, being the boss often resulted in her feeling very lonely on set.
"Sometimes I would get very lonely, because I wanted to be a part of the group, but there was also the element of, like, having to boss people around. And we would be doing all this as a team, [but] if we got criticism, I felt like it would all come down on me in this s--t-storm torrent," she told the publication. "Even though I was surrounded by love, there were times where I felt very 'by myself' in the process."
"Making my deal with HBO as a 23-year-old woman, I felt that I had so much to prove," Dunham said.
"I felt like I had to be the person who answered emails the fastest, stayed up the latest, worked the hardest. As much as I loved my job, I really, like, injured myself in some ways," she continued.
"If I had felt like, 'You're worthy of eight hours of sleep, not four; you're worthy of turning your phone off on a Saturday,' I don't think it would have changed the outcome of the show."
Despite having a LOT to deal with as the series' creator and star, Dunham turned out an amazing show and we can't wait to see what happens in the final season.
Girls returns to HBO on February 12th, so mark your calendar!