Wear summertime on your fingertips with juicy lemon nails, the nail art trend that Beyoncé predicted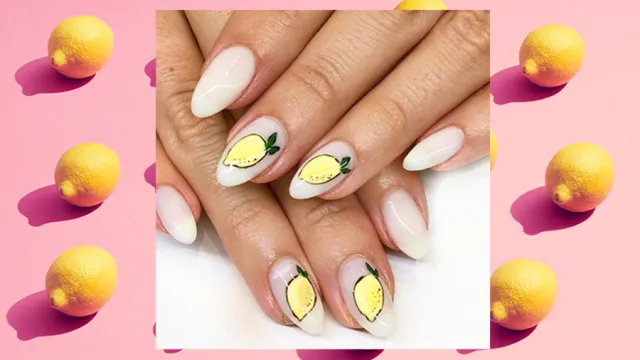 Picture it: You're wandering through a garden of lemon trees in Sorrento, Italy. It's mid-summer, and the sun is beaming down on you while you enjoy a cup of lemon gelato gelato al limone. Sounds divine, right? There's something so summery and warm about lemons, which is probably why they're the center of this season's most popular nail art trend.
Lemon nails, in every single shape and form they come in, are the perfect nail art to try out this summer, no matter what your nail style may be. Only into subtle accent nails? May we suggest one single lemon? Want to wear your love of lemons loud and proud? Pair the print with a neon base color underneath. Into something edgier? Try negative space lemon nail art, finished off with a matte top coat.
This summer, we're embracing lemon nail art in all its forms, because nothing screams summer like the sunny yellow fruit.
We'd also like this print as bedroom wallpaper, please and thanks.
Love the different lemon slice patterns on each finger.
Can't choose between lemons and limes? NBD.
The bare base makes this look so cool and fresh.
Juicy.
We're obsessed with the negative space work here.
Care for another pop of color in your already bright manicure?
How cute do these lemons look on hot pink nails?
The matte finish is a unique touch.
https://www.instagram.com/p/ByMGeM7gOZ4
Just a couple lemons on each finger, if all-over isn't your thing.