Leighton Meester made a super rare appearance on the red carpet wearing a devil red jumpsuit, and SLAY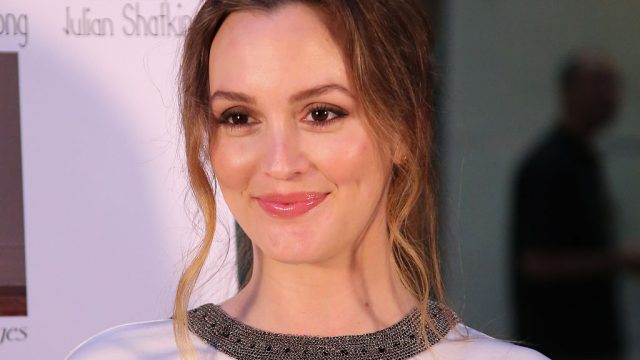 It has been a hot minute since we have seen Leighton Meester on the red carpet, but we were so excited to see her glowing at EW's PopFest. She was definitely on fire in her red jumpsuit. Meester stepped out for the night to attend the EW's PopFest which took place over the weekend. Her new show Making History was one of the shows screening there, so we are definitely going to be seeing more of her out and about, which is very good news. The premise of the show is that Happy Endings' Adam Pally time travels to the 18th century and accidentally changed the entire history of America because he messed with the outcome of the American Revolution.
There is no official confirmation of the designer of the jumpsuit, but it looks similar to the Roland Mouret Pre-Fall 2016 jumpsuit that was featured in the collection. Paired with the jumpsuit, Meester kept her accessories simple and donned a pair of pointy black pumps. Her makeup was light and dewy, which seems to be the go to style on many celebrities these days.
https://twitter.com/udfredirect/status/792588449480073216
Meester has kept it low key the past couple of years so she could focus on her family and friends
"My values have shifted greatly in terms of what I find important," said Meester in the November 2014 issue of InStyle U.K. "It's my family, my friends and having a personal life. Those are the things that need nurturing." Since having her daughter, Arlo, last summer, Meester and her husband, Adam Brody, have really been keeping to themselves, which is why it's such a treat to see her slaying the red carpet yet again.
While we totally respect her privacy, we cannot wait for her new show to come out so we can see her gracing the red carpet again. Meester, we miss you!