Someone found an uncanny likeness between Princess Leia and *Princess* Shuri, and we are screaming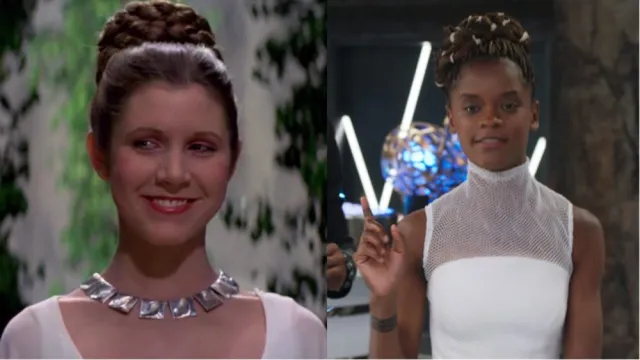 Marvel's Black Panther introduced us to Shuri, a playfully acerbic tech genius who *happens* to be the Princess of Wakanda. With her ferocity, wit, and reluctance to use her royal title, we had total flashbacks to General Leia Organa of Star Wars. If you did, too, you aren't alone! A Twitter user found an uncanny likeness between Leia and Shuri, and honestly, we can't stop screaming about it. It is the best.
Twitter user @vaderwave was first to point out the unbelievable similarities between Leia and Shuri. Not just for their fierceness, though that's obviously part of it. There's a significant visual cue that fans could have picked up on — not once, but twice. The fan who spotted it posted their photo evidence with the caption, "I need to lie down for a few years," which is hilarious and perfect and probably how we all feel right about now, right?
Leia and Shuri both served I-C-O-N-I-C looks to us during their time onscreen, but how did these particular looks (below) get past us? Shuri's buns could totally be in homage to Leia's — a style we see when we meet both princesses in their respective films — and her crown of braids is pretty familiar, too. Wit, style, and perfectly coiffed hairdos? We're in Disney-Marvel-Star Wars-universe heaven.
See for yourselves…
false
Right? Right?
Whether or not the likeness was intentional, we are living for it.
The diverse looks of the Black Panther characters were crafted with attention to history and detail, not to mention with love and appreciation. It's totally possible that Shuri's looks were designed to be unique to her character, and have a significance unto themselves. The overlap between Leia and Shuri is hitting us right in the feelings all the same.
Wakanda forever, and may the force be with you (and your hairstylist).