Mindy Kaling "Can't Wait" to Hear What People Think of Her 'Legally Blonde 3' Script
"Bend and snap" will definitely be included.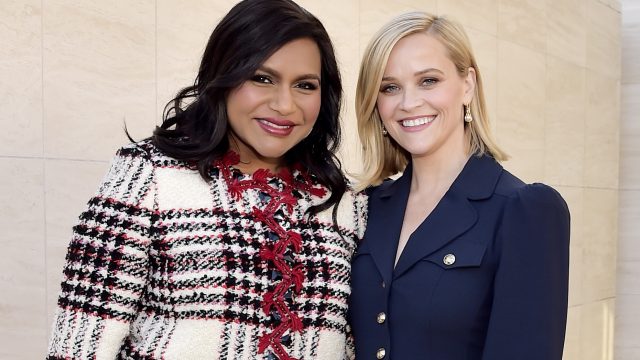 Update: January 11th, 2021: Mindy Kaling just provided us with a much-needed update on Legally Blonde 3, and it looks like she's still not exactly sure when the movie will film, despite the studio saying it had a release date last October, but she's *very* excited for everyone to see the movie.
In a January 8th interview with Access, Kaling said that she's still working on the script and added, "I love the franchise so much; I love Elle Woods as a character, and when Reese asked me if I wanted to write it, I was like, absolutely. I can't wait to see what people think of the way we wrote Elle Woods at 40!"
Because of the pandemic still running rampant in the world, much of the production in Hollywood has come to a halt until the virus is more under control, which means there's no firm time that this movie will be shot, but Kaling is hoping they'll get around to filming this year.
She also added that, of course, bend and snap is not going anywhere and will have its rightful place in this film! Kaling even went as far as saying, Bend and snap is forever! We wholeheartedly agree on that one.
There's no word on the release date changing as of yet, but if filming keeps getting pushed back because of the pandemic, the release date may get pushed as well.
Update, October 21st, 2020: It's officially happening, people. Mindy Kaling promised fans that she was currently writing the script, but now, MGM studios has announced the Legally Blonde 3 release date.
In a tweet last night, October 20th, MGM studios said Legally Blonde 3 will be coming for May 2022. Yes, that's some time away, but we'd wait any time for a Kaling-written script for Reese Witherspoon's Elle Woods.
Mark your calendars with your pink pen and be sure to spritz it with your favorite scent.
Original post, October 7th, 2020: With limited crews, quarantined casts, and a list of must-follow rules a mile long, the cogs of the entertainment industry are starting to turn once more. But Mindy Kaling has been working this entire time. With the help of her writing partner, Dan Goor, Kaling has been piecing together the script for Legally Blonde 3, and not even a pandemic will halt her writing genius.
Kaling virtually stopped by Good Morning America yesterday, October 6th, to update us on how the Elle Woods-centric sequel is coming along.
I was nervous because the movie is so iconic, Kaling said of the original Legally Blonde.
She relatably added that she was the "annoying friend" who always quoted lines from the film at her former A Wrinkle In Time costar Reese Witherspoon. "But then I thought, 'It'd be really fun to see that character in her 40s. What is Elle Woods dealing with as a 41-year-old woman?'"
Legally Blonde 3 has been on the table since 2018 when Witherspoon and Kaling both signed on to make a third movie in the franchise happen. The original plan was that the film will pick up exactly 20 years after the 2001 movie aired. But, due to the pandemic, things may be shifted slightly into the future—it's still unclear.
"It's been really funny to write," Kaling continued. "And I'm working on it with my friend Dan, and I think it's going to be a great movie for Reese and people are going to love to see her in this part."
The anticipation is killing us, but the pandemic has taught us how to be patient. So, we will wait for the greatness.