How I learned to accept that I'm different from my graceful mother, one eight count at a time
Whenever music plays, I can find my mom dancing. Growing up, she danced across the wood floors in the kitchen — and whether it was tap or ballet in her socked feet, I thought my mom was the most glamorous thing. Like a lot of daughters, I wanted nothing more than to be like her, and as I danced by her side, I was sure that I was like her.
Oh, girl.
At four, I distinctly remember my first ballet class. But my tights were itchy AF. And peeing was this big to-do. It didn't get much better in the actual class. Why were we stretching the whole time? I wanted to do some leaps! I wanted to learn to twirl! So, clearly, I didn't have the patience to become a prima ballerina.
My mom took me to dance shows all the time. I didn't ever understand the modern dances, but I felt hella cool going to the theater with just my ma. I loved seeing her excited about something she was passionate about, even if I didn't understand why these people were crawling through concrete tunnels in flesh-colored body suits. Even when my mom tried to explain, I didn't understand.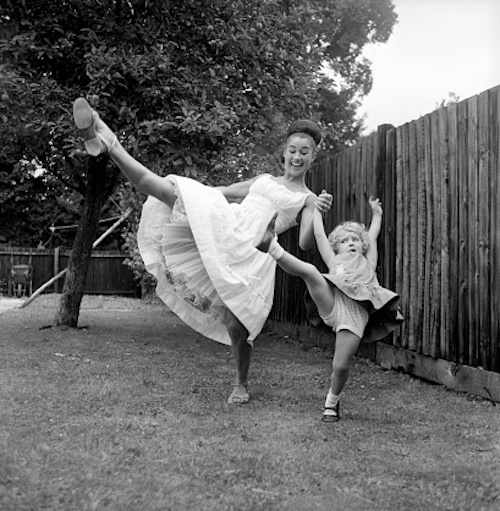 But I did understand books.
I loved to write. Whenever I was falling into a story, I'm sure I wore the same dreamy expression my mom did when she danced. Still, it would take me a while to realize my passions and my talents were different from my mother's. I was fortunate that she never pushed anything on me — I never felt any pressure to be a dancer.
But my mom is the type of person that everyone likes, and who also happens to be beautiful. I am not that type of person. I have a big mouth which — as anyone with a big mouth knows — can alienate people.
I always wished I could be more like my mom — yet in recent years, my mom has said the exact opposite: She wishes she was more like me.
Dancing is an art which involves making one's limbs do things they wouldn't normally do. A dancer has to be in complete control of his or her body. There is a lot of discipline involved. For my mom, it was an outlet and a passion. And for her, it was also one way she exerted her voice in the world. Off the stage, out of leg warmers, it was always harder for her; she is a self-admitted people pleaser. It's truly hard for her to disappoint anyone.
When she tells me she wants to be more like me, she is talking about my ability to speak up and stand up for myself.
What I have recently come to understand, though, is that I would never be this kind of woman had she not raised me to be that way.
In grade school, I gave dance another go. I felt awkward and strange in my own body, because my body was awkward and strange at that time. I couldn't memorize dance routines to save my life. Yet, my mom was still dancing across our kitchen floor, performing routines from high school.
Dancing connected my mom to her own body. It did the exact opposite for me. Dancing made my mom feel strong and powerful. It did the opposite for me.
I tried a cheerleading camp before high school. My mom was sure to ask me if I really wanted to do it; I think we had both figured I was done trying to be something I wasn't.
But there was still something inside me wondering why I couldn't be more like her, more graceful, less clumsy and loud.
Everything she admires in me now, and everything that has gotten me through the most difficult parts of my life, made me feel different then.
At camp, I was so bad. No one ever said so, but I knew what it was like to be good at something, to feel like all the gears inside me were working together seamlessly – as I did while writing. This felt exactly the opposite of that.
And so I stopped. I stopped trying to be a good dancer or make some squad. Instead, I just danced – not well or even average. But I did pursue writing. I read books. I traveled. I learned another language. And I fell into myself, more gracefully and naturally than I had ever managed to dance.
I didn't stop looking up to my mom, and I still want to be like her.
I can't find the beat to save my life, but I can find the strength of her character, her ability to make people feel special and loved, and her generosity.
My mom is a dancer and I am a writer.
These two artistic pursuits are different, just as we are different. She saw that I was a writer, long before I did, and embraced that part of me long before I could. Now, I can finally make peace with the fact that I won't ever have her grace — but I will always have the integrity she instilled in me.