Lea Michele sent Emma Roberts the sweetest birthday message, proving they're friendship goals as always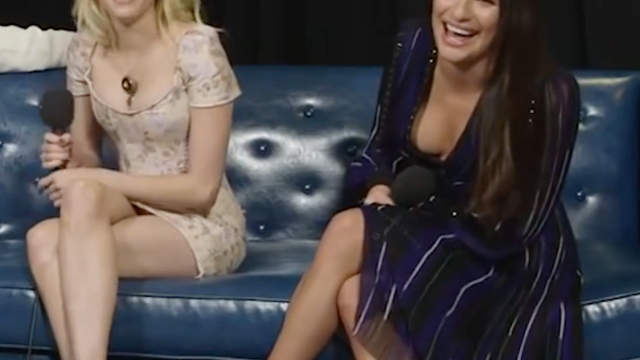 It's no secret that the Scream Queens cast has the most fun off-set and on. While Lea Michele and Emma Roberts's characters might not always get along, the two actresses couldn't be closer IRL. Michele and Roberts constantly profess their love for each other on social media, and we really can't get enough of this dynamic duo. Paps keep catching them out doing adorable things like shopping together and holding hands on scary amusement park rides, and it's no surprise that Lea had the cutest message for Emma yesterday on the ultimate Scream Queen's 26th birthday.
Michele's sweet caption reads,
 Happy Birthday to truly the best friend a girl could ask for.. I love you Emma. There is no one I laugh harder with, would rather call in the middle of the night or blast the Wreckers with all day… thank you for always being there for me. Love you so much
She posted the same picture on Twitter to celebrate Roberts's birthday with the caption: "Happy birthday to this beautiful babe.. my best friend, the Betty to my Veronica.. love you" Clearly Emma Roberts is a really good actress as it sounds like she's nothing like Chanel Oberlin.
Roberts responded to Michele's message on Twitter and she was clearly feeling the co-star's love.
Is there anything better than female BFFship?
*Sigh* that would be a hard N-O.
This isn't the first time Michele has called herself and Roberts Betty and Veronica.
Their overt Riverdale fandom makes us dream of a Scream Queens-Riverdale crossover. Honestly, that could be totally cool! However, Betty and Veronica aren't the only dynamic duo that Michele and Roberts compare themselves to. Lea posted a picture of the BFFs with the caption,
 Channeling our inner Bella & Gigi
Oh, and have we mentioned that they work out together too? Maybe they should also be calling themselves Venus and Serena while they're at it.
Emma and Lea have the cutest co-star friendship since Jen Aniston and Courtney Cox and we are 100% here for it.