Laverne Cox spoke about what transgender bathroom bills are really about: human rights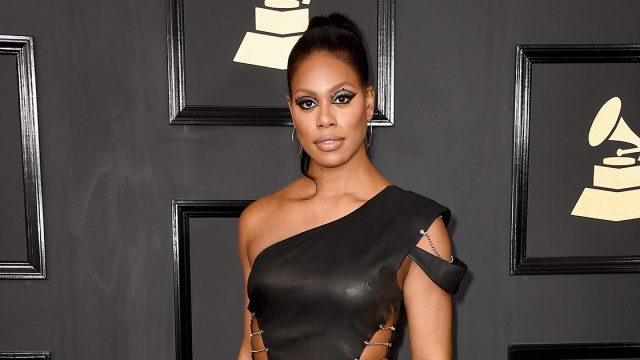 Proving once again that she's one incredible woman, Laverne Cox has broken down what transgender bathroom bills are actually all about, and what she said is so darn important.
Given the current socio-political climate, we have to say that we've been in awe of how public figures like Laverne Cox have handled themselves in the face of bigotry. What's more, the actor and activist  has previously opened up about her womanhood, and at this year's Grammy Awards used her platform to speak about Gavin Grimm, raising awareness of the transgender teen's legal battle.
Well, now Laverne Cox has spoken up about her own experiences as a transgender woman, and what "bathroom bills" are actually all about: impeding on human rights.
Speaking to InStyle, Cox opened up about a recent experience while visiting the MSNBC studios in Los Angeles, where she expressed how something as simple as going to the bathroom becomes a whole other issue for trans-individuals.
"I'm a famous actress and I still have that fear [about using a public restroom]," she said. "It's happened before. I was on a date a few years ago in New York City, waiting for a guy at the bar, and I went to the ladies room and the security guy asked to see my ID. But what would he have seen? All of my documentation has been changed. I'm a woman. I'm legally female. And yet, it would be illegal for me to use the women's room in North Carolina.
"These laws, like the HB2 law, stigmatize trans people and criminalize a population that's already criminalized," she added.
Continuing, Cox went on to explain how 30 per cent of trans-individuals don't eat or drink in public to avoid having to use public restrooms, noting that she still feels anxious in liberal cities like New York and L.A.
Cox then got to the crux of the matter: bathroom bills are actually about how transgender people should be treated and given "the right to exist in a public space." 
"These bathroom laws aren't really about bathrooms. When the current administration rescinded the guidelines for how transgender students should be treated in schools, they made it all about bathrooms. But the Obama-era guidelines also included pronoun and name preferences for these young people as well," she said. "These are important components of how trans kids should be treated in school, but all that is lost when we sensationalize this issue. It's not about bathrooms. It's about the humanity of trans people, about us having the right to exist in a public space."
Finally, the actor turned her attention to Gavin Grimm and the Supreme Court's decision to return his case to the Fourth Circuit Court of Appeals following the Trump administration's recent rescinding of protection guidelines for transgender students.
"[The Supreme Court's decision],while disappointing, is an opportunity to further highlight the humanity of trans youth," she said. "Let this be a wake-up call to all Americans that trans people and trans youth are under attack in this country and that we must all stand with trans folks…As we have this fight, this debate, we must continue to elevate the voices and lived experiences of actual trans people. Trans people cannot be left out of conversations about our own dignity and humanity." 
Read Laverne Cox's full comments here.
We couldn't agree more with what Laverne Cox has said, and we're so thankful for her using her platform to speak about such important and life changing matters. As she said, the fight continues.