Olympian Laurie Hernandez got a message from her celeb crush, you probably know of him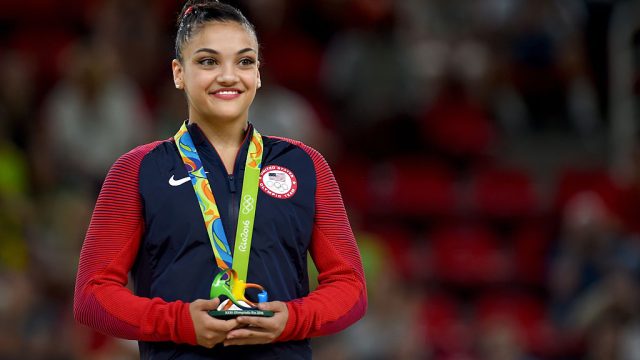 Sadly the 2016 Rio Olympics are over, and we're experiencing some major sports withdrawals. We're especially missing the Final Five (in case you haven't been following, the Final Five are the spectacular and fierce and wonderful U.S. Olympic Gymnastics team, the "final" team of gymnast god Martha Karolyi). The Final Five include Simone Biles (she won four gold medals and one bronze, making her the most decorated U.S. gymnast in a single Olympics history NBD), Gabby Douglas, Aly Raisman, Madison Kocian, and our girl Laurie Hernandez, who won a combined nine medals as a team overall.
But this is not what this story is about…it's that Laurie fulfilled all of our dreams: She got a message from uber-tattooed hottie, The Voice coach and Maroon 5 frontman Adam Levine. After Laurie's teammate Simone Biles was visited by her ultimate (and ours) #crush Zac Efron, it seems that Laurie had to step up her game. Let's just say we're not sure which Olympian we should be more jealous of.
Before leaving Rio, Laurie was interviewed by Ryan Seacrest on his late-night show this past Saturday, to which Laurie explained to Ryan that she's a big The Voice fan, and revealed her favorite judge was Adam Levine.
"So Adam keeps winning so I like Adam because of that," Laurie said. Next thing you know, because life just happens that way, Ryan draws Laurie's attention to a screen…and it's a video message from Adam Levine(!!!!!!!). Her girlish shock was ours.
"What's up, Laurie? This is Adam Levine, just wanted to say 'Hello, congratulations.' You're kicking butt out there, and we've been watching you from the States. Excellent work," said Levine.
We're still blushing, for her, of course. EEEK!
https://www.youtube.com/watch?v=WQPIHPz8vmA?feature=oembed
Hopefully all this excitement will power Laurie and her teammates through their 40-city gymnastics tour. Catch them soon!