Lauren Graham opened up about finding love in Hollywood, and *we're* falling in love just hearing about it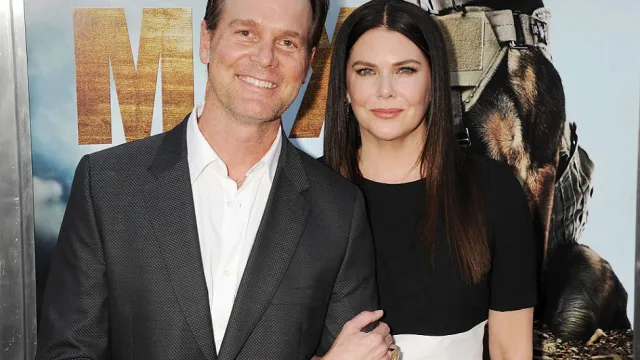 We'll always be rooting for Lorelai Gilmore to find love (*cough* with Luke *cough*) — so, of course we're ecstatic that the woman behind the legendary character is so happy in her current relationship. In her brand new book, Lauren Graham opened up about finding love while in the spotlight, and mentioned how — while a tough task — she finally managed to get it right.
Graham has been dating Parenthood co-star Peter Krause for a whopping six years.
Going public in September 2010, the two have managed to avoid gossipy tabloids or on-set fallout. (Just imagine dating your coworker. If things go south, work becomes a lot more difficult.)
While Parenthood wrapped up in 2015, these two are still going strong. But even though they starred in the same show together, these two actually have somewhat of a history beyond that. They actually met about 20 or so years ago, and developed a friendship.
"I think we liked each other [but] he asked me over to his house to play a board game – and that's exactly what we ended up doing," she said to Redbook when the pair became official. "So I was like, 'This guy doesn't like me. Who actually plays a board game?'"
 Believe it or not, her Gilmore Girls mom, Kelly Bishop, gives herself some credit for the connection.
"She doesn't remember this, but a long time ago, we were talking about the latest unworthy person. She is a very bright woman, and I always thought the guys she was going out with weren't smart enough for her because that's going to bore you after a while," Bishop said to Glamour last year.
(Uh, that's adorable.)
"We're talking about her latest problem and the fact that there's no one out there, and I say, 'You know, I've been watching this show I love called Six Feet Under, and there's this guy,'" Bishop continued. "She says, 'I know, Peter Krause.' And I said, 'I think you two would make the greatest couple.'"
And the rest is history!
These days, Krause and Graham are living together in LA. As expected, Graham is preparing not just for her book launch (which will be on November 29th) but the premiere of Gilmore Girls: A Year In The Life.
"I mean, he's really my favorite person to talk to, she said in an interview with People about her guy. "And he always makes me laugh. He's really, really funny."
 She also mentioned that Krause often keeps her sane, since Hollywood living can often get a tad bit hectic.
"It's hard to explain to people when you have a fancy job like being an actor what is challenging about it. So we just kind of have that shorthand, a shared language, which is helpful," she said.
Aww. We hope these two stay happy forever.