Lauren Graham talks Melissa McCarthy's return to "Gilmore Girls" and our hearts are so full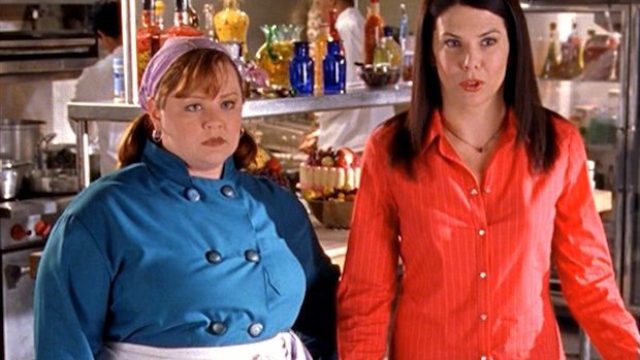 Gilmore Girls: A Year in the Life is just around the corner and we can't get enough of the lovely characters from Stars Hollow! In anticipation of the revival, Lauren Graham talked about Melissa McCarthy's return to Gilmore Girls and it makes our hearts so full.
It's less than 20 days until the Gilmore Girls revival hits Netflix, and we can barely contain our excitement. Luckily, we have some fun info about the series from Lorelai Gilmore herself, and yes it's about Graham's on-screen BFF, McCarthy, who plays Sookie St. James.
When the revival was initially announced, the Ghostbusters actress wasn't one of the names set to return, which was a major disappointment for fans and the cast alike, but eventually McCarthy did sign onto the project and all was right with the world. Graham revealed when everything did fall into place with her Dragon Fly Inn business partner, it just felt right.
"You know, the way these things come together is so circuitous and she's so busy," Graham explained to Entertainment Tonight about McCarthy's return to the series.
"Then we all were together on set and it was just great. [We] got to hang out after and it's like [Alexis was] saying, you have a foundation with these people, so anything else is just icing on the cake," the 49-year-old actress added.
McCarthy's presence was definitely like the cherry on top for fans who are counting down the days until the four-part series hits the streaming service, but it will be bitter sweet since Edward Herrmann, who played Richard Gilmore, passed away before they all reunited.
"It was the final piece of the puzzle to make sure that the show felt whole," Graham said about McCarthy. "That all of it's important players were there, except for Ed, but it was great to have her there."
Despite the fact that not the whole Gilmore Girls family will be in the series — and we know we're going to cry when Richard's funeral takes place — we are so happy that Sookie and Lorelai will reunite in Stars Hollow, and hopefully still have their inn running smoothly!
Gilmore Girls: A Year in the Life premieres on November 25, so don't forget to mark your calendar — if you haven't already.