What a self-proclaimed fashion snob learned from celebrity stylist Laura Zapata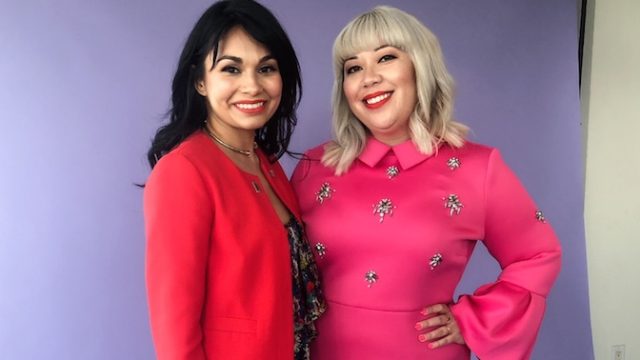 Being a celebrity stylist can sound like a fun job, but it also requires innate talent to elevate a stranger's fashion sense without compromising their personal vibe. That's why when Dove asked me if I wanted to meet Laura Zapata, a fashion stylist who has dressed celebs such as Gina Rodriguez, Camila Cabello and Dascha Polanco, I was more than down. Who wouldn't want to get fashion advice from someone who truly knows what it means to express personality through clothing?
Now, with the risk of sounding a bit like an asshole, I'm not the kind of person who needs a stylist. Not only have I had an interest in fashion since a young age, but putting together outfits has always been one of my favorite creative outlets. Usually people come to me when they need some styling help, NOT the other way around. But getting styled by someone who dresses people for a living — especially famouses — is an entirely different thing. And who says you can't teach an old (stylish) dog new tricks? There's always something to learn in this life.
Dove teamed up with Laura and the website Fashion Snoops and invited bloggers and editors to learn how to "power dress" using the hottest colors of 2018. These include shades like the classic Power Red, a gorg periwinkle Blue Bell, Lilac, Rose Petal (we can't get away from you millennial pink, nor do we want to), and more. I was grateful that they were fun, bright colors, because I cannot do a neutral. I almost never wear beige, white, and gray. My wardrobe consists of the perfect Libran balance between goth black and candy hues.
First, Laura demonstrated how the Dove Invisible Dry Spray Antiperspirant doesn't get on any clothing — 100 colors of clothing to be exact. I was already familiar with its magic since it's my go-to deodorant when I don't want to mess around. (I've had a few traumatic experiences with cakey white deodorant getting stuck on my dresses.)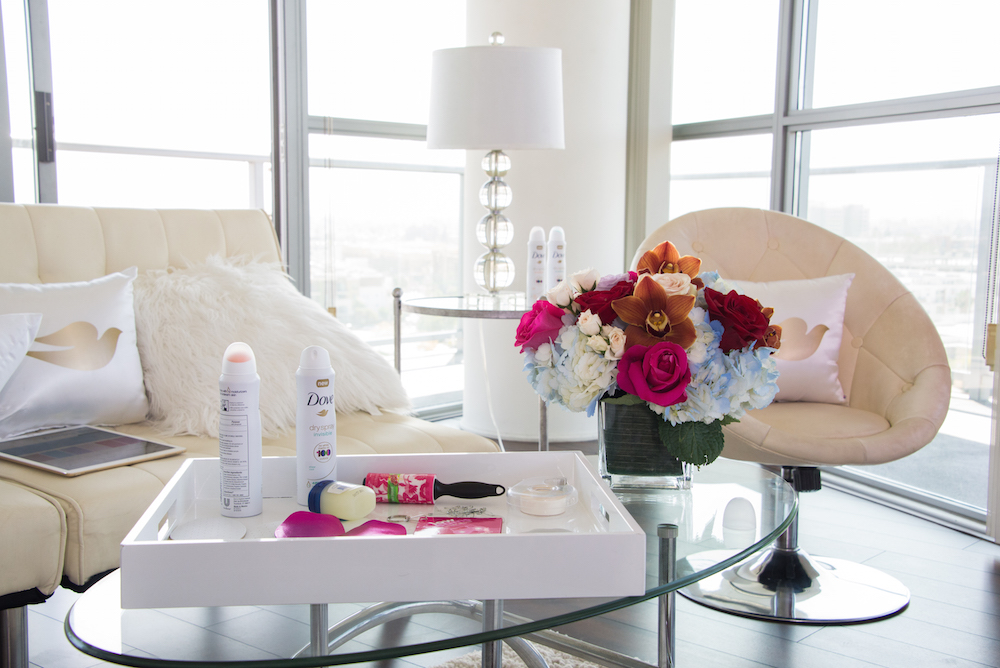 Next, Laura showed me some options for clothes knowing that I was a bright color lover. I was immediately drawn to a hot pink number with jeweled accents. My eyes went to its space on the rack faster than if I saw John Stamos at Trader Joe's (and I have Stamos radar).
I absolutely loved it.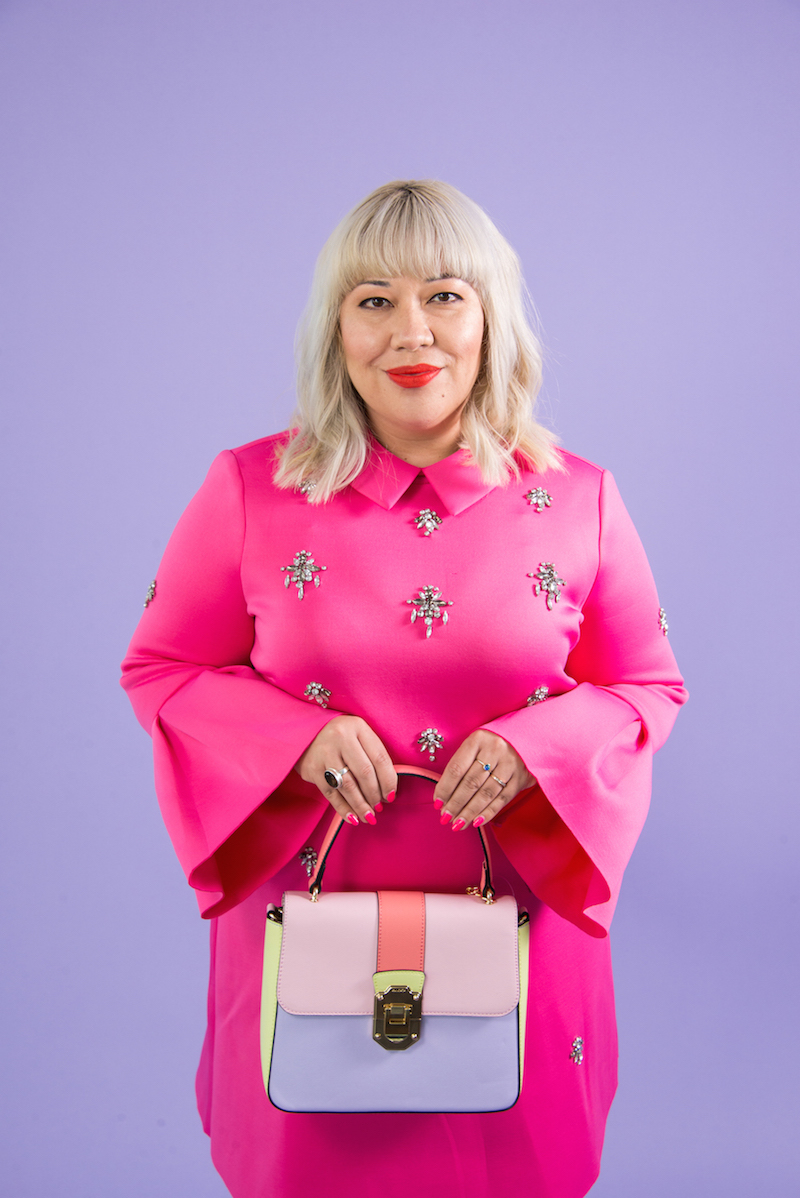 I'm ready to take over the world.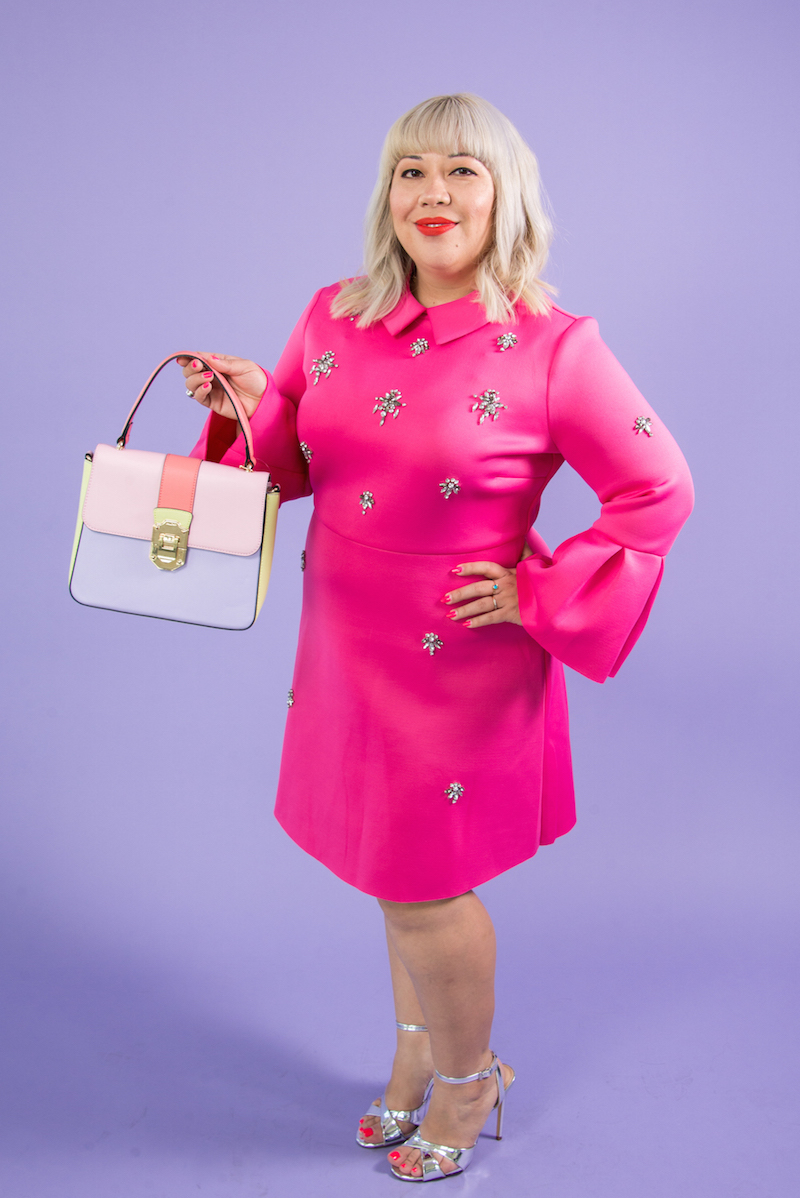 Even though I'd go to work in a Met Gala gown if I could, I do love being comfortable. Laura says in order to keep comfy while still slaying your work outfit, you should go for low-maintenance wardrobe basics in striking colors. On-trend colorways, such as the power dressing colors mentioned above, will keep you looking ahead of the curve. And if you're going to a girls' night or a happy hour date right after work, you can do simple things like accessorizing a shift dress as you would a party dress.
I also wanted to get a few tips for my own personal wardrobe that I also felt anyone could benefit from. (You're welcome.)
Tip 1: Customizing clothes
I asked Laura what are some things I can do to shake up my wardrobe even if I'm already pretty adventurous with my clothing and she had the coolest suggestion: customization! "I'm really into the idea of personalization when it comes to getting adventurous with your clothes," Laura says. "Try either bedazzling, adding patches, or monogramming inspiring words or phrases onto a denim jacket, hat, tee, or a summer dress to really jazz things up." If you need inspo on what to get monogrammed, she says powerful phrases promoting self/individual and cultural pride are very on-trend right now, not to mention a great way to keep that kind of encouragement at the forefront!
Tip 2: Must-have accessories at all times
When it comes to what purses everyone should have in their closet, Laura suggests a lightweight cross-body bag. Why? It's a great on-the-go-hands-free option for concerts or festival season. She also says a sleek evening clutch is something simple and classic that will be exactly what you need when you have a last-minute cocktail event. As for accessories, Laura wants us to always have statement earrings on hand. "It's amazing how gorgeous jewelry can suddenly transform your look from blah and basic, to aspirational and fashion-forward just by throwing on some cool, chandelier earrings," she says. For footwear, it's a pair of black stiletto pumps. Laura explains, "When you're dressing for an important interview or business meeting, you need to dress like the boss that you are. Be prepared for this moment and have some power pumps ready to roll."
Tip 3: Investment pieces
I have a ton of cute novelty purses, but only a couple of practical handbags. While I consider this to be a consequence of my love for kitsch, sometimes a gal needs a basic (but cute), all-situation bag. When it comes to a good investment piece to splurge on, Laura says, "A timeless, medium-sized handbag in a neutral or jewel tone, constructed in sturdy styles (i.e., reinforced leather, a high-quality animal skin, sturdy buckles, strong stitching)." And she gave it to me straight: "Trendy handbag collections in bright colors or of-the-moment artist collaborations are very eye-catching but rarely stand the test of time, often making it unworthy of your hard-earned cash," she says.
Tip 4: Staying stylish in a casual workplace
If you work in an office where you can wear whatever you want (like we can at HG), it's awesome, but also means you can easily get stuck in a comfy, IDGAF fashion rut. Laura suggests letting your creativity shine through accessories. "Stick with an eye-catching work bag like a leather backpack or a colorful tote," she says. "Opt for stacking edgy rings and necklaces and wear cool earrings like crawlers or mismatched styles." Lunchtime is also a good way to show off a fun accessory. She says to keep colorful sunnies or a hat on hand to throw on when you step out for lunch.
Now you're all set to be the most stylish person in the office! Check out more tips on the Fashion Snoops website.