Laura Lee and Gabriel Zamora explain the process of creating their MAC lipsticks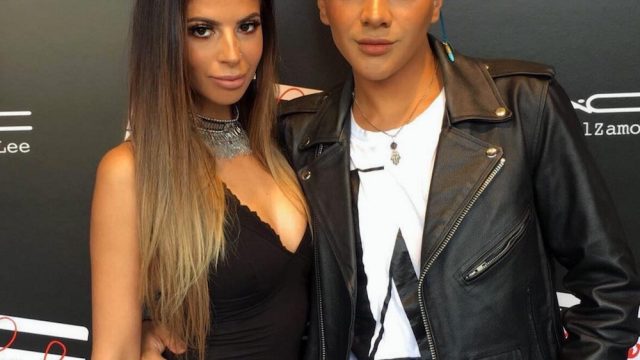 MAC Cosmetics collaborated with 10 influencers for an epic lipstick collection, including U.S. beauty gurus Laura Lee and Gabriel Zamora. And guess what? You can get your hands on it right now. When their lipstick shades were finally revealed, we were beyond thrilled to add a new holy grail item to our makeup collection. While the YouTube beauty moguls could've created bright, bold shades (like blue to match Gabriel's gorgeous hair), instead, they made universal colors — nudes, to be exact, that they just couldn't find for themselves.
Before Gabriel and Laura put on their gloves and goggles to create their custom lipstick shades in MAC's lab, they were already makeup scientists mixing and putting together their version of nude lippies in their YouTube videos.
"There are a lot of nudes out there, but a lot of the times I was mixing together three or four colors, so I chose to create a color that I was mixing all the time," Laura Lee told HelloGiggles.
"This is my first collaboration, so I wanted to create something that I could wear all the time, and a color that I do wear all the time," Gabriel added. "I wanted to create something that I was obsessed with and that other people could be obsessed with as well."
Laura explained, "I wanted to create the easiest nude to wear," and, like, goal achieved!
So how did they piece together the "perfect" nude lipsticks? Before they could play with their product, they used inspiration boards to give them an idea of what they wanted to create.
"I don't even know how to make makeup. I just use it! To see it from the back side of it, the science and the chemistry that goes behind it was fascinating. We mixed everything together, and I created my own lipstick. I'm like, 'I made this, by hand, by scratch.'"
He jokes, "I didn't create the chemicals, but I mixed them together."
And while Gabriel and Laura love the lipsticks they made for their MAC collaboration, they have been huge fans of the iconic beauty brand since the beginning, revealing their tried and true products to HelloGiggles.
"Give Me Sun! Mineralize Skinfinish is, to me, the best bronzer because it doesn't have shimmer, but it gives the illusion that you were in the sun. I wanna look like I was in the sun if I'm going to put bronzer on."
https://www.instagram.com/p/BSDBcFDgqT1
Laura added,
"That one is so easy, it's the Paint Pot in Soft Ochre. I think I've primed my eyes with it for 7 years now."
She's not lying, y'all. She taught HelloGiggles her cut crease eye tricks, and showed us her MAC Paint Pot in action on our FB Live.
Laura and Gabriel have personalities that make you feel like you've been besties since middle school, proving that even with their huge following on social media they remain down-to-earth. It's no wonder they chose lipsticks that everyone could relate to.
You can snag Laura and Gabriel's custom lip shades right now on MAC's website. The lipsticks are available for $17, each.